Exhibitors and Sponsors
Thank you to our previous sponsors and exhibitors of OPA events and publications who continually support Ohio pharmacy! View current exhibitors, sponsors and supporters by accessing the OPA Virtual Exhibit Hall.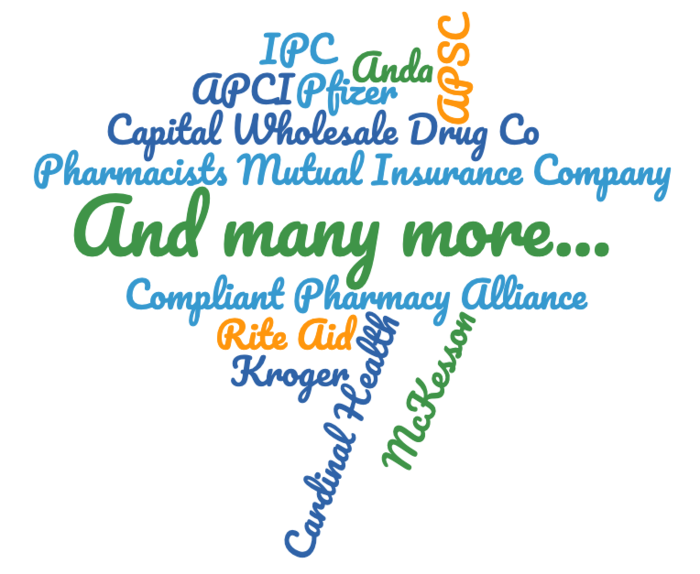 OPA offers four opportunities to exhibit each year, as well as the Residency and Fellowship Expo. See below for more information. If you have questions, contact Janice Johnson at jjohnson@ohiopharmacists.org.
Midyear Meeting Trade Show - In-person - November 7, 2021
You can meet 150-200 Ohio pharmacists as they learn from the experts and connect with peers and vendors in the Midyear Meeting Exhibit Hall. This trade show will offer one hour of exhibit time on November 7 from 11:45 am - 1:00 pm at the Makoy Center in Hilliard Ohio. Current COVID-19 guidelines will be in place. Space is limited. Register now.

| | | | |
| --- | --- | --- | --- |
| Registration: | Member rate | Non-member with Dues | Non-member |
| | $300 | $480 | $550 |
Click here to exhibit at the live 2021 OPA Midyear Meeting
The OPA Annual Conference and Trade Show will host a hybrid event with an in-person Trade Show April 1 - 2, 2022 and virtual content available until June 1, 2022. Current COVID-19 guidelines will be in place for the in-person event. Past in-person OPA Exhibit Halls attracted 1,000 pharmacist and student pharmacist attendees to interact with 80 exhibits. Note: New and updated live or virtual sponsorships and rates, as well as additional details appear in the 2022 OPA Annual Conference & Trade Show Exhibit Sponsor Invite. This Ohio Pharmacists Association 2021 W-9 form is available to include with the sponsor request process.
Click HERE to exhibit and sponsor the live 2022 OPA Annual Conference and Trade Show
The OPA Residency and Fellowship Expo, April 17, 2021, connected Residency and Fellowship directors the opportunity to introduce their program to student pharmacists participating in the virtual OPA Annual Conference.
2022 Information Coming Soon
The 5th Independent Pharmacy Expo offers interaction with independent pharmacists as well as unique education that will attracted 60 independent pharmacy owners, potential owners, managers, interns and staff pharmacists from around the country. This event streamed sessions with live Q&A on Sunday, September 19, 2021 and offers accessible exhibits and on-demand sessions through November 19, 2021. Session topics include enhanced revenue sources, provider status, clinical networks, implementing ideas, DIR, veteran advice, and finance. Note: The live Trade Show occurred 11:40 am - 12:50 pm EDT with video chat on September 19, 2021. Pharmacist, Technician and student attendees must video chat during Trade Show hours to qualify for the Sunday, September 19 Prize Drawing.
Sponsorship Opportunities
Multi-event Packages – Discover the benefits of Platinum, Diamond, Gold, Silver and Bronze sponsorship! (OPA Sponsor Brochure, page 3)
Conferences, Meetings and Trainings – Sponsor events or donate items for the Annual Conference, Diabetes Training, Midwest Independent Pharmacy Expo and many more…Recording Guidelines from OPA
(OPA Sponsor Brochure, pages 4-9)
Communications/Advertising – Advertise in and Sponsor OPA's Print and Electronic Communications. (OPA Sponsor Brochure, page 10)
Advocacy/OPA PAC/LDF – Sponsor OPA advocacy efforts, which are recognized nationwide. (OPA Sponsor Brochure, page 11)
Advertising Opportunities
Reach Ohio pharmacists through OPA print and electronic communications!
Print:
Ohio Pharmacist Journal Advertising - One of few state pharmacy association journals still publishing on a monthly basis. The award-winning journal arrives on the doorstep of 3,500 Ohio pharmacists each month. It is also available online in the Members Only section of the OPA website. Pre-Conference issues are February and March. Post-Conference issues are June and July.
Display Advertising Rates
Color process per issue (effective July 1, 2019)
An electronic file in PDF format with 350 dpi is the preferred format for submission of ad materials. NEW - convenient EFT payment option now offered
| | | | |
| --- | --- | --- | --- |
| Ad Location | 12X | 6X | 1X |
| Inside Front | $650 | $780 | $820 |
| Full Page | $640 | $770 | $810 |
| 1/2 Page | $350 | $480 | $520 |
| Back 1/2 Page | $450 | $520 | $580 |
| 1/3 Page | $300 | $420 | $480 |
| 1/4 Page | $200 | $320 | $380 |

Business Card/Print Classified $75
Ohio Pharmacist reserves the right to reject any advertisement or to require that the word "advertisement" appear in any ad.
E-mail: opa@ohiopharmacists.org; Journal Editor: Amy Bennett, R.Ph.
Conference/Meeting Program Advertising – Full page and half-page rates vary – See pages 4, 7, 8 & 10 of the OPA Sponsor Brochure
Web/Electronic:
Ohio Pharmacy Newsline –with an open rate of 40%, this anticipated, OPA member email is sent every two weeks with pharmacy news.
OPA eBulletins to members and non-members can be sponsored – Event confirmations, upcoming CPE and Trainings, etc.
Multiview sells OPA advertising for the OPA website. For website advertising, contact Jon Smith at opa@multiview.com or (972)402-7023.
Advertising opportunities appear on page 10 of the OPA Sponsor Brochure