Ohio Pharmacy PAC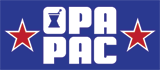 Help us grow the profession and fight back against the growing control of pharmacy & patient care by the government and insurance industry. 
Contribute to the Ohio Pharmacy PAC
---
What is the Pharmacy PAC?
The Pharmacy Political Action Committee is a voluntary, nonprofit, nonpartisan organization of pharmacists who are interested in promoting good government and public health. Pharmacy PAC money contributed by pharmacists goes to help candidates who support pharmacy in Ohio. That's right, your money is used to support political clout for Pharmacy … right here in Ohio!
Why do we need a Pharmacy PAC?
MCOs, MACs, AWP, PCMHs, Nurse Dispensing, Prescriptive Authority, Provider Status, Immunizations, Pharmacy Choice … just to name a few reasons why we need a strong Pharmacy PAC. The advancement of the pharmacy profession depends greatly on the political clout of our profession and the pharmacists' association. The stronger our PAC is, the louder our voice will be! Help pharmacists around the state establish prudent public policy in the interest of public health and the pharmacy profession.
How do I get involved?
Pharmacists,
I extend a cordial invitation to you to join the Pharmacy Political Action Committee. It is the Ohio pharmacist's way of promoting good government consistent with the public interest and contributing to professional and business growth in the pharmacy community. Take your stand today, and get involved! The following explains the contribution process of Pharmacy PAC. Learn how you can help make pharmacy prosperous in the years ahead.
How do I support the Pharmacy PAC?
The Ohio Pharmacy PAC needs your support now! With your support, OPA will continue to monitor and initiate the legislation that impacts your practice.