Complete Story

January 2023 OPA Extern Profile: Megan Kerth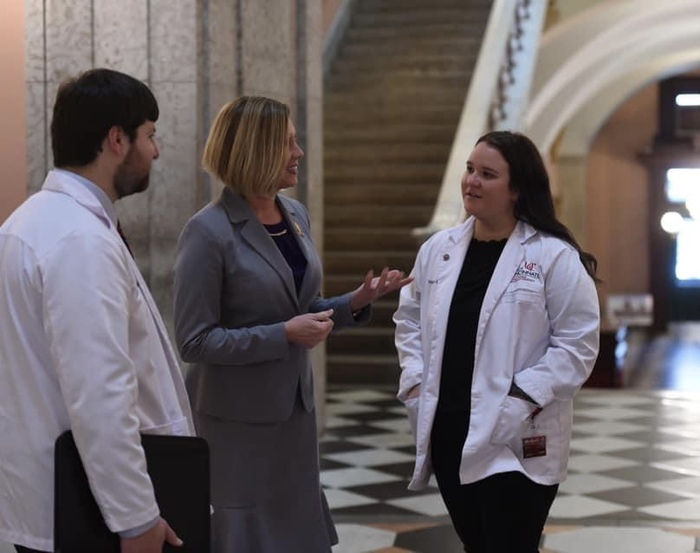 Name: Megan Kerth

E-mail: kerthme@mail.uc.edu
Pharmacy School: University of Cincinnati
Undergraduate degree/institution: Bachelor of Science in Pharmaceutical Sciences, The Ohio State University
Rotation Month at OPA: January 2023
How did you get interested in the profession of pharmacy?
My mom is a nurse, so I grew up listening to her stories about taking care of patients and seeing our family use her as a resource when they had questions about their health. I knew I wanted to do something in the healthcare field, so my mom, my love for chemistry (even though I'm not very good at it) and seeing the expanding role of the pharmacist on the healthcare team helped me decide on pharmacy as a career.
Why did you choose OPA as a rotation site?
I took an Advocacy in Pharmacy class my P2 year and attended OPA's Student Legislative Day in Columbus where I was able to meet with my state representative. Since then, I have found interest in maintaining my knowledge on different pharmacy legislation, as well as current trends in pharmacy in Ohio and the rest of the United States.
What was the most significant or surprising experience at OPA?
I have been able to experience the true range of pharmacists that OPA is representing. I attended a State of Ohio Board of Pharmacy meeting in downtown Columbus and then visited independent pharmacies in rural Mt. Vernon and Danville. It really allowed me to see the passion that each individual shares for pharmacy and reminded me that our career path is endless.
Why I think it's important to maintain my OPA membership after graduation.
OPA has so many resources for pharmacists, whether you are a student, a new graduate, or retired. I will stay involved with OPA to maintain the connections I've made during this rotation and to continue to stay involved in advocating for myself and my peers.
What other pharmacy associations/organizations do you belong to?
APhA, ACCP, ASCP
Hobbies:
Watching the Bengals, cooking new recipes, and spending time with my family!
---