Complete Story

Pharmacists Thank Senator Brown !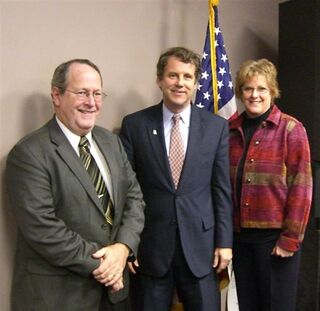 Executive Director's Comments
Pharmacy won a major victory on July 15, when the U.S. House of Representatives and the U.S. Senate voted to override the President's veto of H.R. 6331, the legislation that accelerated reimbursements for Medicare Part D claims, delayed cuts to Medicaid generic prescription drug reimbursement, and suspended the flawed Medicare DMEPOS (durable medical equipment, prosthetics and supplies) competitive bidding program. I would like to take a moment to recognize the fact that both Ohio Senators voted for H.R. 6331. We need to publicly thank them for their efforts, and I hope that you will take time to send personal, handwritten thank you notes to Senators Brown and Voinovich for their support of this legislation. (The address and information on writing them is included at the end of this message.)

In this message, I want to tell you about the support that Ohio Senator Sherrod Brown has shown for pharmacists in the past two years. Please read this message without the partisan viewpoint of Republican or Democrat, but as a pharmacist, a member of a group that over the past 10 years has been virtually ignored by Congress and, in a number of cases, treated as though the profession was expendable. Every vote in the past was made without considering the viewpoint of pharmacists who provide excellent health care in cities large and small throughout the state. Pharmacists who provide actual jobs in small communities that need those jobs. Pharmacists who contribute to their communities, whether supporting the local baseball team, or serving on hospital boards (e.g., Pharmacist Randy Crisp, CVS pharmacist in London, OH), or serving as Mayor of their town (e.g., Tom Whiston, independent pharmacist, Mount Gilead), or serving in the State Legislature, as Dave Burke, independent pharmacist from Marysville, will be doing in January 2009.

When Medicare D passed, the views of large PBMs were considered, large insurance companies were considered, and the large drug manufacturers were considered, but community pharmacists were totally ignored. Those days are over, and Sherrod Brown of Ohio has made it clear that your opinion counts in Congress. Let me give you a few examples.

Sherrod Brown has been a supporter of pharmacists for years. When he was a member of Congress in the House of Representatives, we had discussions about various pharmacy issues, and he lent support on certain issues. When Medicare D passed and we were having many problems getting ready for the implementation, he and his staff took note, and offered to help when they could. The many calls they received from the public helped substantiate the serious problems that were in the program. When an Ohio pharmacy closed, citing low Medicaid and Medicare D reimbursements as part of the cause for the closure, Sherrod Brown mentioned the problems to George Will, a nationally syndicated columnist, at a lunch meeting. That mention resulted in George Will making the closure of that pharmacy the lead sentence in one of his columns that appeared in the Washington Post, the Columbus Dispatch, and hundreds of other newspapers across the country. The public learned about the need of local pharmacists to be able to keep their businesses open financially from that well-respected writer, due to a mention from Senator Brown.

Remember that Sherrod Brown, and his staff, agreed to help us with the tamper-resistant issue, which resulted in legislation that was signed by President Bush at the end of September, delaying the program long enough for us to cope with the problem. Soon after that legislation passed, the Senator's staff called me saying that the Senator wanted to have a conference call with pharmacists across Ohio, from every aspect of pharmacy. We put together a group of about 30 pharmacists, representing independent, chain, health-system, mail order, academia, long term care, and other practices, for the call. When I asked what agenda was to be followed, they told me it would be whatever the pharmacists wished to discuss. The call lasted almost an hour and a half, with the Senator leaving the phone only to cast votes. In over 20 years of representing you, I've never had ANY politician ask for that type of input, with no restrictions, for that period of time. To have 50 percent of the individuals representing Ohio in the U.S. Senate spend that much time with practicing pharmacists was amazing.

Senator Brown was then asked for his help on the problems we've been experiencing with Durable Medical Equipment regulation by CMS. He immediately signed on to help. He was contacted about H.R. 6331, the legislation that allows pharmacists, physicians, and others continue to financially exist under Medicare. He immediately became a cosponsor of the legislation, and was an active supporter all the way through the process. Senator Brown voted for passage of H.R. 6331 at every step along the way. He was one of the critical votes when the legislation finally passed on July 9, with a veto-proof margin, and he continued to vote for H.R. 6331 when Congress overrode the President's veto on July 15. You may remember seeing Ted Kennedy on TV making his first appearance in the Senate after his brain surgery to vote on this bill, since he recognized that it failed by only one vote previously. This was a major win, and I'm proud that both of Ohio's Senators were with us on this vote.

I normally don't publish photos of my wife, OPA member Twila Boyd, R.Ph., in the journal to prevent the destruction of domestic tranquility, but I'm making an exception in the photo on page 6. She is an example of an OPA member who is very involved in her community as both a practicing pharmacist and business owner. She is the current President of the Madison County Chamber of Commerce, and Sherrod Brown asked for a meeting with her Chamber and some community members. A Madison County Commissioner asked me to attend the meeting, which gave Twila and me a chance to personally thank Senator Brown for his help in sponsoring the Senate legislation to solve the tamper-resistant issue, both on behalf of an individual pharmacist, and on behalf of OPA. During the meeting, the Senator asked me how we were able to gain the support of certain Senators around the country who initially opposed our legislation. I made it clear that it was individual pharmacists who know their Senators, just like Ohio pharmacists know him. I simply contacted the executive directors of the state pharmacy associations around the country, who, in turn, made calls to a few pharmacists in their state who had formed relationships with their Senators. The power of individual relationships is far beyond what most pharmacists think.

THANK YOU, Senator Brown, for listening to Ohio pharmacists, and voting to make Medicare D and other programs more equitable for pharmacists and their patients. I also would like to thank two people on your staff, Eleanor Dehoney and Roberta Downing, both of whom have patiently listened to me and other pharmacists explaining the issues that are of concern. They care about your constituents, and take time to understand the minutiae of the issues, which can be quite complex. We appreciate the fact that we can continue to work with your staff to develop policy that helps the citizens of Ohio get the best in health care.
Pharmacists, here's how to address your thanks to Senators Brown and Voinovich:
The Honorable Sherrod Brown
455 Russell Senate Office Bldg.
Washington DC 20510
The Honorable George Voinovich
524 Hart Senate Office Bldg.
Washington, DC 20510
Dear Senator (or Representative) _________,

Events
←
July 2019
→
S
M
T
W
T
F
S
1
2
3
4
5
6
7
8
9
10
11
12

OPA Office - 2674 Federated Blvd, Columbus, OH 43235

July 12, 2019

13
14
15
16

OPA office- 2674 Federated Blvd., Columbus, OH 43235

July 16, 2019




10:00AM

17
18
19

OPA Office- 2674 Federated Blvd, Columbus, OH 43235

July 19, 2019

Deer Creek State Park

July 19-21, 2019

20

Deer Creek State Park

July 19-21, 2019

21

Deer Creek State Park

July 19-21, 2019

22
23
24
25
26
27
28
29
30

OPA Office- 2674 Federated Blvd, Columbus, OH 43235

July 30, 2019




10:00AM

31
August 20, 2019
11:00AM
August 21, 2019
7:30AM-5:15PM
OPA Office- 2674 Federated Blvd, Columbus, OH 43235
August 27, 2019
7:30AM-5:15PM
OPA Office, 2674 Federated Blvd, Columbus, OH 43235
September 8, 2019
Embassy Suites by Hilton in Dublin, Ohio
September 19, 2019
11:00AM