Complete Story

November 2022 OPA Extern Profile: Aseel Amer
Name: Aseel Amer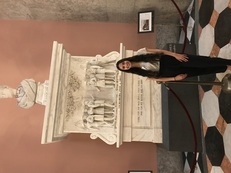 E-mail: aseel.amer@rockets.utoledo.edu
Pharmacy School: University of Toledo
Undergraduate degree/institution: Bachelor of Science in Pharmaceutical Sciences from the University of Toledo
Rotation Month at OPA: November 2022
How did you get interested in the profession of pharmacy?
Growing up, I saw how my relatives from overseas and others lacked the understanding of how important it is to take their medications and the effects those medications have on their body and disease states. I wanted to pursue pharmacy to have that direct patient interaction and be a resource for my community and family. I was also surrounded by many individuals who worked in the healthcare field, so I had the chance to hear about the lasting impact they made on their patients. This encouraged me to go into pharmacy and make my own footprint.
Why did you choose OPA as a rotation site?
I chose OPA as a rotation site because I knew how impactful OPA is to pharmacists and wanted to play a part in the behind-the-scenes of the organization. I wasn't too familiar with policy and advocacy as it relates to pharmacy, so I wanted to sharpen my knowledge on those as well. Additionally, I am pursuing a PharmD/MBA, so I wanted to experience how Association Management differed from regular management and felt like OPA was the perfect place to merge my passions for pharmacy and business!
What was the most significant or surprising experience at OPA?
The most significant experience at OPA was having the opportunity to attend Pharmacist Legislative Day. I loved being surrounded by pharmacists who came from all over and shared a common passion for advocating for pharmacy. Another significant experience I had at OPA was getting to moderate a state training for Pharmacists regarding Long Acting Injectables.
Why I think it's important to maintain my OPA membership after graduation.
I think it is important to maintain my OPA membership after graduation because I want to be involved in an organization that continues to push my profession forward and change pharmacy for the better, which is exactly what OPA does. Additionally, OPA has multiple useful resources that will help me grow as a pharmacist such as continuing educations, mentorship panels, legislative and regulatory updates, and networking.
What other pharmacy associations/organizations do you belong to?
Student National Pharmaceutical Association, Phi Lambda Sigma Pharmacy Leadership Society, and Rho Chi Pharmacy Honor Society.
Hobbies:
I love music-I play the flute and enjoy going to concerts in my free time. I also like to travel/explore new places and stay active by running.
---