Complete Story

April 2020 OPA Extern Profile: Libby Stabler
Name: Libby Stabler
E-mail: stablerl@findlay.edu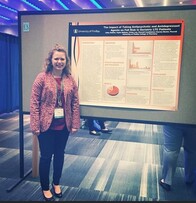 Pharmacy School: University of Findlay
Undergraduate degree/institution: University of Findlay
Rotation Month at OPA: April 2020
How did you get interested in the profession of pharmacy?
When I was in eighth grade, I was required to shadow an individual in a profession of my choice. I was unsure of whom I should shadow, but I knew I always enjoyed my mathematics and science courses in school. My parents were friends with a pharmacist who worked in the independent community pharmacy setting, so I decided that I wanted to shadow there. I really enjoyed it, so I shadowed at another community pharmacy near my hometown, as well as the hospital pharmacy in my county. The summer before my senior year of high school, I attended the University of Findlay's Pharmacy Summer Camp. This experience made me confident in my decision to pursue a career in pharmacy, and it also helped me determine that Findlay was the perfect school for me.
Why did you choose OPA as a rotation site?
I first became interested in completing a rotation with OPA last spring when I attended a presentation at the University of Findlay from OPA Executive Director Ernie Boyd regarding Pharmacist Provider Status and Ohio Senate Bill 265. Prior to that time, I had not thought much about the importance of advocating for my future profession. Through my teaching assistant position, I quickly found myself very involved in assisting other UF students in sending letters to their Senators and Representatives encouraging them to vote yes for SB 265. From there, I was able to attend OPA's Legislative Day and OPA's 2019 Annual Conference. By having the opportunity to complete a rotation with OPA, I knew that I would be able to network with pharmacists from various practice settings around the state, and continue to fulfill my passion of endorsing pharmacists as vital members of the healthcare team.
What was the most significant or surprising experience at OPA?
I originally was very excited for my OPA rotation because I was looking forward to assisting with the OPA Annual Conference and Trade show that I attended last year. Unfortunately, the Annual Conference was rescheduled to August, and my rotation has been virtual due to the COVID-19 pandemic. However, I have had so many wonderful experiences this month that I would not trade. I was still able to help with several projects relating to the Annual Conference. Along with this, I believe my favorite part of the rotation has been interviewing pharmacists across the state of Ohio over the phone in various practice settings about their efforts during the COVID-19 pandemic. I have had the opportunity to write articles about each pharmacist I have spoken with to showcase the important role pharmacists are playing in this pandemic. Talking to all of these individuals has been inspiring, and it makes me very excited to begin my career as a pharmacist.
Why I think it's important to maintain my OPA membership after graduation.
I am looking forward to maintaining my OPA membership after graduation because I am committed to continuing to advocate for the profession of pharmacy throughout my career. This month, I have been so impressed by how much hard work OPA puts in behind the scenes to help make sure pharmacists are appropriately represented as essential members of the healthcare team. I have spoken to many pharmacists throughout the month who are very involved with OPA, and they have inspired me to do the same. I am thankful for the relationships that OPA has helped me develop this month, and I am confident that I will be able to continue to make connections through OPA as I begin my new career as a pharmacist.
What other pharmacy associations/organizations do you belong to?
Aside from Ohio Pharmacists Association, I am a member of American Society of Health-System Pharmacists (ASHP), Academy of Managed Care Pharmacy (AMCP), Rho Chi Pharmacy Honor Society, American College of Clinical Pharmacy (ACCP), and Alpha Zeta Omega Pharmaceutical Fraternity (AZO).
Hobbies:
I really enjoy listening to music, playing the piano and attending concerts. I also love traveling anytime I get the chance. In my free time, I love spending time with my family members and friends, exercising, and watching movies and television shows.
---