Complete Story

OPA member Scott Knoer named the next CEO of APhA!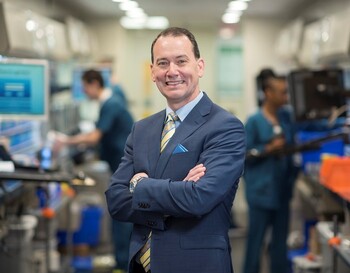 We are pleased to report that today, the American Pharmacists Association (APhA) announced that long-time OPA member and advocate Scott J. Knoer, MS, PharmD, FASHP, has been named their next Chief Executive Officer/Executive Vice President.
Knoer, who will be just the 13th CEO in APhA's 168-year history, will officially assume his duties July 1, 2020. He succeeds our good friend Thomas E. Menighan, who has served as CEO/EVP of APhA for the past 11 years, and last year announced his plans to retire.
Knoer has been one of OPA's greatest supporters since he began his time in Ohio as the Chief Pharmacy Officer at the Cleveland Clinic in 2011. At the Clinic, Knoer led the entire pharmacy operation, overseeing nearly 1,600 pharmacy full-time employees and a $1.4 billion drug budget at the Clinic's 1,300-bed tertiary care referral hospital, its clinics and cancer center, 18 family health centers and 11 community hospitals in the Cleveland area with facilities in Florida, Las Vegas, Canada, London and Abu Dhabi.
In his spare time, Knoer has been a tireless advocate for pharmacists, as a key cog in OPA's efforts to expand the role of the pharmacist, streamline pharmacy regulation, expose PBM abuses, and to secure provider status. Additionally, Knoer has devoted significant time and resources for other members of the Cleveland Clinic pharmacy team to maintain membership, participate in OPA committees, and to advocate at the Statehouse. Simply put, Knoer has historically always prioritized advocacy, and we are excited for him to be able to do it full-time on a national stage.
"My time in Ohio working with the pharmacy patriots at OPA showed me how successful a professional organization can be if they are willing to take tough stances and fight hard against embedded special interests with deep pockets," said Knoer. "It was OPA that exposed the egregious PBM practices in a shot heard around the payor world. We passed one of the most liberal collaborative practice acts in the country, and we hit it out of the park with Ohio Provider status. In my role at APhA, I will take my learnings from OPA and help states like Ohio share their incredible successes that empower pharmacists to care for patients. I will be a life-long OPA member, because OPA has Ohio pharmacists backs!"
Prior to his time in Ohio, Knoer held leadership positions in pharmacy at the University of Minnesota Medical Center in Fairview, Minnesota, and the University of Texas Medical Branch at Galveston, Texas. He completed his residency at the University of Kansas Medical Center and he is a graduate of the University of Nebraska College of Pharmacy.
Outside of his work with OPA, Knoer currently serves as Contributing Editor for Pharmacy Practice Management for the American Journal of Health-System Pharmacists (AJHP) where he created and coordinates the CPO Perspectives column. He is a Past Chair of the American Society of Health-System Pharmacists (ASHP) Section of Pharmacy Practice Managers, and is also the Chair of the Vizient Pharmacy Council (formerly the University Health‐System Consortium).
Scott has published widely on a variety of pharmacy and leadership topics. He is a frequent invited lecturer to state, national, and international audiences in the United States, Canada, United Arab Emirates, Saudi Arabia, Italy, China and Japan. He is frequently quoted as a health care expert on a broad array of topics in newspaper, radio and television outlets such as the Wall Street Journal, the Washington Post, the New York Times, STAT News, Modern Healthcare, NPR Radio, CNBC, and many others. He has published editorials in Time Magazine, Newsweek, STAT First Opinion, and the Hill.
Among many honors, Knoer was recognized for his advocacy related to egregious drug price increases by ASHP with their Board of Director's Award of Excellence in 2017. He also received the John W. Webb Lecture Award for excellence in pharmacy management in 2019.
"To say we're excited to see Scott Knoer get to bring his talents and passion to the national level is an understatement," said OPA Executive Director Ernest Boyd. "Scott has a bold vision for pharmacists, and at a time when this profession needs to assert itself more than ever, I believe he is the right pharmacist with the right attitude at the right time. APhA has made an outstanding selection."
OPA would like to thank current APhA CEO Tom Menighan for his years of steady leadership and great partnership. We'd also like to congratulate OPA member Sam Calabrese on taking on the interim Chief Pharmacy Officer role at the Clinic now that Scott will be moving on to APhA. We know the Clinic is in great hands.
OPA is excited to work with Knoer at a national level to reform exploitative PBM practices, repair the pharmacy business model, improve patient safety, expand the role of the pharmacist, secure provider status, lower prescription drug costs, reduce drug shortages, realign the incentives of the drug channel, and address our nation's most pressing health care challenges.
Get to know Scott:
Advocacy as a professional obligation: Practical application - AJHP, 1/7/20
A drug maker replaces an old treatment and boosts the price by 1,300% - STAT News, 8/20/19
Ohio doctors, patients frustrated by policy that requires switching medications: Survey finds - Cleveland Plain Dealer, 7/25/19
How Pharmacist Provider Status Is Crucial in Fighting the Opioid Epidemic - Drug Topics, 4/19/19
Trump Administration salutes parade of generic drug approvals, but hundreds aren't for sale - Kaiser Health News, 2/7/19
Rising drug prices are making hospitals feel a little sick - STAT News, 1/16/19
'PBM busters' find employers unaware of price markups by drug middlemen - Columbus Dispatch, 12/23/18
Transformation of the PBM: PolitiTalkRx - Pharmacy Podcast Network, 11/26/18
Antidote to rising drug prices languishes on the Hill - The Hill, 10/23/18
What does PBM stand for? In Ohio (and elsewhere), it's programs bilking millions - STAT News, 6/29/18
Multihospital health systems: Seize the opportunity - AJHP, 4/1/18
Hospitals are revolting against the generic drug market. Here's why - STAT News, 2/1/18
Integrated PBM model could pose a threat to hospitals - Modern Healthcare, 11/2/17
How Cleveland Clinic saved $90M in drug costs - Fierce Healthcare, 6/8/17
How to Stop Immoral Drug Price Increases - TIME Magazine, 9/7/16
Mylan's generic option could cost patients more, says pharmacist - CNBC, 8/29/16
Valeant Promised Price Breaks on Drugs. Heart Hospitals Are Still Waiting. - New York Times, 5/11/16
ASHP Member Spotlight: Scott Knoer - ASHP, 12/1/15
Pharmaceutical Companies Buy Rivals' Drugs, Then Jack Up the Prices - Wall Street Journal, 4/26/15
You Take Care of Patients. OPA Takes Care of You.
---