Complete Story

DMEPOS Providers Legislation, Pharmacy Tech Rules, Zoster Vaccine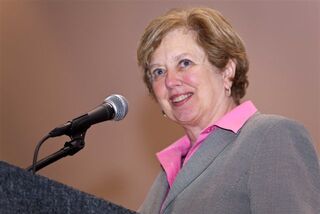 Congresswoman Mary Jo Kilroy (D-OH) addressed more than 300 pharmacists and guests at the Awards Luncheon of the 131st OPA Annual Conference about the importance of pharmacist involvement in healthcare reform.
Federal Legislation
Surety Bond Exemption Bill Introduced in House. Thank you Congressman Space!!
Ohio Congressman Zack Space is co-sponsor of a bill that would exempt pharmacies from having to post surety bonds to continue to provide Medicare Part B Durable Medical Equipment, Prosthetics, Orthotics and Supplies (DMEPOS) to their patients. The Preserve Patient Access to Reputable DMEPOS Providers Act of 2009 is H.R. 1970.
This legislation is needed because the Centers for Medicare & Medicaid Services (CMS) issued a rule that requires pharmacies to obtain a surety bond by October 2, 2009 to provide DMEPOS. The average independent community pharmacy's DMEPOS-generated revenue only comprises a small percentage of their gross annual sales. Fourteen other medical professions are exempted from the surety bond requirement because of their state licensure, expertise, and training - all qualities that pharmacies share.
Please contact your Representative and urge him/her to support H.R. 1970 and move it as quickly as possible so pharmacists won't have to meet these expensive and unnecessary requirements.
S. 511: Access to Durable Medical Equipment Act of 2009
S. 511, introduced by Senators John Tester (D-MT) and Sam Brownback (R-KS), would add pharmacists to a list of 17 medical professionals exempted from new accreditation requirements for Medicare Part B Durable Medical Equipment, Prosthetics, Orthotics and Supplies (DMEPOS). Sen. Sherrod Brown from Ohio is currently signed on to support this legislation, but I would encourage everyone to contact Sen. George Voinovich and ask him for his support as well.
H.R. 616: Exempt Pharmacists and Pharmacies from DME Accreditation
H.R. 616 is a companion bill to S. 511 in the Senate. It would also add pharmacists to the list of medical professionals exempt from onerous new accreditation requirements needed to continue to provide DME supplies. At the time of writing this article, Ohio sponsors included Rep. Mary Jo Kilroy, and Rep. Steve Driehaus. If you don't see your Congressperson's name, please call and ask him/her to support this important legislation.
State Legislation
Pharmacy Technician Rules
The Ohio State Board of Pharmacy has filed the Qualified Pharmacy Technician rules with the State of Ohio. The public hearing is scheduled for May 7, 2009. If you are interested in reading the entire text of the rules you access it at the address below:
http://pharmacy.ohio.gov/Proposed_Pharmacy_Tech_Rules_05072009.pdf
Zoster Vaccine May Be Added to Pharmacist-Administered Immunization List
Rules have been filed with the State of Ohio that would allow pharmacists to begin administering the zoster vaccine to patients 60 years of age and older. The public hearing is set for May 7, 2009. The text of the rule follows.
4729-5-38 Immunization Administration.
In addition to the immunizations and medications listed in section 4729.41 of the Revised Code and pursuant to the requirements noted in section 4729.41 of the Revised Code, and rules 4729-5-36 and 4729-5-37 of the Administrative Code, a pharmacist may administer the zoster vaccine according to the following requirements:
(A) The pharmacist must receive a patient specific prescription prior to administration of the drug;
(B) the vaccine must be administered within thirty days of the issuance of the prescription;
(C) the patient must meet the age criteria specified in the F.D.A. approved labeling; and
(D) the pharmacist must be able to document meeting the training criteria required by rule 4729-5-36.

Events
←
July 2019
→
S
M
T
W
T
F
S
1
2
3
4
5
6
7
8
9
10
11
12

OPA Office - 2674 Federated Blvd, Columbus, OH 43235

July 12, 2019

13
14
15
16

OPA office- 2674 Federated Blvd., Columbus, OH 43235

July 16, 2019




10:00AM

17
18
19

OPA Office- 2674 Federated Blvd, Columbus, OH 43235

July 19, 2019

Deer Creek State Park

July 19-21, 2019

20

Deer Creek State Park

July 19-21, 2019

21

Deer Creek State Park

July 19-21, 2019

22
23
24
25
26
27
28
29
30

OPA Office- 2674 Federated Blvd, Columbus, OH 43235

July 30, 2019




10:00AM

31
July 18, 2019
11:00AM
August 20, 2019
11:00AM
August 21, 2019
7:30AM-5:15PM
OPA Office- 2674 Federated Blvd, Columbus, OH 43235
August 27, 2019
7:30AM-5:15PM
OPA Office, 2674 Federated Blvd, Columbus, OH 43235
September 8, 2019
Embassy Suites by Hilton in Dublin, Ohio