Complete Story

November 3: Midyear Meeting - Embracing a Changing Pharmacy Practice Recap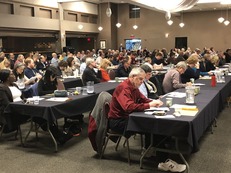 Over 150 attendees from all around Ohio gathered at Hilliard's Makoy Center on Sunday, November 3, 2019 for OPA's Midyear Meeting. The meeting offered seven hours of CPE including one hour of pharmacy law and two hours of patient/medication safety CPE credit to help meet Ohio's CPE requirements.

Course offerings included:
Chronic Kidney Disease: Updates and Best Practices
Don't Sugarcoat It: Types of Insulin Errors and How to Prevent Them
Pharmacy Law and Rules Update Fall 2019
Innovating Pharmacist Practice: Provider Status and Value-Based Reimbursement
Rethinking Aspirin for the Primary Prevention of Cardiovascular Disease: What Does the Evidence Say?
Beating Burnout
Forming a Partnership with Physicians to Improve Opioid Prescribing and Reduce Patient Risk
In addition to the CPE sessions, attendees had the opportunity to speak with exhibitors, network, and win prizes. We hope to see you at next year's OPA Midyear Meeting on Sunday, November 8, 2020!
Special thanks to the Midyear Meeting's Sponsors & Exhibitors:
American Pharmacy Services Corporation, Gold Sponsor
Anda, Silver Sponsor
Capital Wholesale Drug, Gold Sponsor
Cardinal Health, Bronze Sponsor
Coherus BioSciences, Silver Sponsor
Compliant Pharmacy Alliance, Silver Sponsor
Health Care Logistics, Bronze Sponsor
Independent Pharmacy Cooperative, Gold Sponsor
McKesson, Gold Sponsor
New Practitioner Experience
Ohio Pharmacists Foundation
OhioRxDisposal.com
Pharmacists Mutual Insurance Company, Gold Sponsor
Rite Aid Pharmacy, Bronze Sponsor