Complete Story

Mark Kratzer receives pharmacy Good Government Award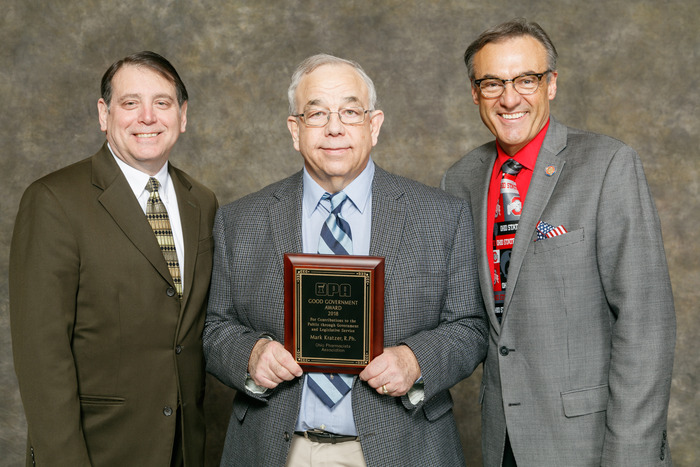 The Ohio Pharmacists Association (OPA) announced that Mark Kratzer, R.Ph. of Maineville, Ohio, is the 2018 recipient of the OPA Good Government Award.
This award, which was presented to Kratzer by Representative Scott Lipps (R-Franklin) at the OPA 140th Annual Conference held April 20-22 in Columbus, honors pharmacists who have produced major contributions to the public through government and/or legislative service/education at the local, state or national level.
Mark Kratzer has been a stalwart advocate for the profession of pharmacy and has worked tirelessly to help fight for a pharmacy marketplace that is conducive to new upstart practices that grow and evolve unique care delivery models for patients. Locally, Kratzer is extremely active in local government and politics, and has worked tirelessly to develop lasting relationships with local, state, and federal officials.
Through Kratzer's work as a pharmacy ambassador to key decision-makers, he frequently hosts lawmakers at his local pharmacy, hosts local events to bring together pharmacists and legislators, and also serves as a reliable point of contact for all pharmacists in his area.
Kratzer's work was instrumental in shepherding through legislation in the 131st General Assembly that created a needed regulatory framework for pharmacy benefit managers (PBMs), as well as required much-needed drug price transparency for pharmacies and employers. His work has made a lasting impact, as many of the issues he initiated years ago continue to be investigated and reformed today.
"Mark Kratzer is an incredible pharmacist and a pillar of his community," said Rep. Lipps. "He is a tremendous advocate, but he's an even better man."
A graduate of the University of Cincinnati College of Pharmacy, Kratzer owns and operates Kratzer's Hometown Pharmacy in Wilmington, Ohio.
"Mark Kratzer doesn't just talk the talk on advocacy, but he walks the walk," said Ernest Boyd, OPA Executive Director. "If you want to make a difference and change things for the better, you have to be involved, and despite his busy schedule as a pharmacist, small business owner, and family man, Mark Kratzer always makes time to work towards positive change for pharmacists and patients. This profession needs 50 more pharmacists as dedicated as he is.
OPA, established in 1879, represents more than 4,000 pharmacists, pharmacy educators, and pharmacy students throughout the state. It is OPA's mission to unite the profession of pharmacy and encourage interprofessional relations, while promoting public health through education, discussion, and legislation.
---