Complete Story

Micah Sobota's commitment to community drug abuse outreach recognized with statewide award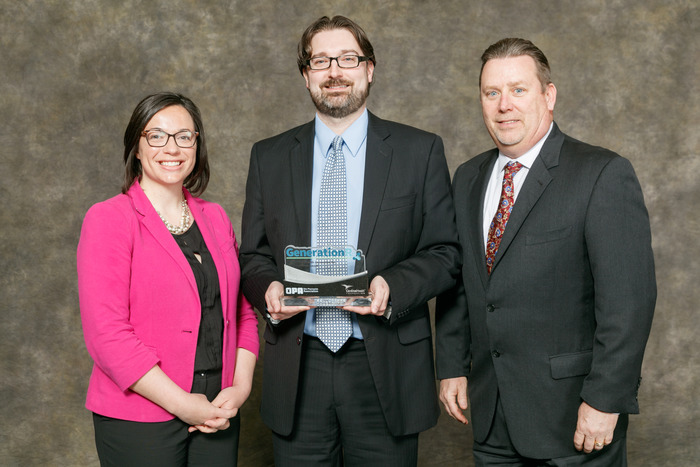 The Ohio Pharmacists Association (OPA) announced that Micah J. Sobota, R.Ph., PharmD, BCPS, CGP, FASHP of Lima, Ohio, is the 2018 recipient of the Cardinal Health Generation Rx Champions Award for excellence in community-based prescription drug abuse prevention.
This award, created in 2010 by the Cardinal Health Foundation to recognize pharmacists for their work in combating prescription drug abuse, was presented at the OPA 140th Annual Conference April 20-22 in Columbus. The award annually honors a pharmacist who has demonstrated outstanding commitment within the pharmacy community to raise awareness of this serious health problem. It is also intended to encourage educational prevention efforts aimed at patients, youth, and other members of the community.
Micah Sobota has demonstrated excellence in community-based prescription drug abuse prevention through patient care services, teaching, community service and participation in professional organizations. These activities have enhanced addiction services, as well as helped the unmet mental health needs in both Allen and Hardin Counties. Within Northwest Ohio, Sobota has been a resource for those affected in both acute overdose situations and long term maintenance programs.
Sobota earned a Doctor of Pharmacy degree Ohio Northern University College of Pharmacy, and practices as a clinical pharmacist at Coleman Behavioral Health.
"Prescription drug abuse is a serious concern – it's an unfortunate reality that there are potential killers lurking in the medicine cabinet, but just some basic education and precautions can keep everyone safe," said Ernest Boyd, OPA Executive Director. "We applaud Micah Sobota's commitment to preventing prescription drug abuse. His work in his community goes above and beyond the call of duty, and he represents his profession well."
More information about the Generation Rx program, toolkits and award can be found at www.cardinalhealth.com/GenerationRx.
OPA, established in 1879, represents more than 4,000 pharmacists, pharmacy educators, and pharmacy students throughout the state. It is OPA's mission to unite the profession of pharmacy and encourage interprofessional relations, while promoting public health through education, discussion, and legislation.

---