Complete Story

Amy Fanous receives pharmacy award for community outreach efforts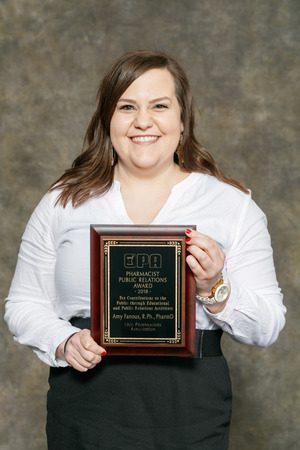 The Ohio Pharmacists Association (OPA) announced today that Amy Fanous, R.Ph., PharmD, BCACP, CTTS of Dublin, Ohio, was named recipient of the 2018 Pharmacist Public Relations Award.
This award, presented at the OPA 140th Annual Conference held April 20-22 in Columbus, is presented annually to honor a pharmacist for continuous service to the community in educating the public on pharmacy-related issues and safe medicine use.
Fanous' involvement with the Ohio Northern University's HealthWise Rural Mobile Health Clinic provides valuable services to the medically underserved community of Hardin County and promotes the value of pharmacist services. Her dedication to the community is impressive. In addition to the services provided during clinic, she is also actively involved in various community events providing education and promoting preventative health services. In addition, she has promoted the importance of preventative health care through local television and radio.
"It is not out of the ordinary for pharmacists to be active in their communities – in fact, most pharmacists are 'go-to' health care resources in areas they practice and reside in. Amy Fanous is a true ambassador for the profession in every sense of the word. It's pharmacists like her who take health care to the next level to ensure wellness and safe medication use," said Ernest Boyd, OPA Executive Director.
OPA, established in 1879, represents more than 4,000 pharmacists, pharmacy educators, and pharmacy students throughout the state. It is OPA's mission to unite the profession of pharmacy and encourage interprofessional relations, while promoting public health through education, discussion, and legislation.

---