Complete Story

Dan Karant receives pharmacy award for community outreach and volunteerism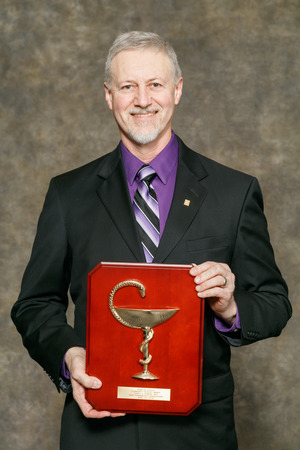 The Ohio Pharmacists Association (OPA) announced that Dan Karant, R.Ph. of Norton, Ohio, is the 2018 recipient of the Bowl of Hygeia Award for outstanding service to his community.
This award, presented at the OPA 140th Annual Conference held April 20-22 in Columbus, is presented annually to honor a pharmacist who has contributed to the progress of his/her community within the state of Ohio. The Bowl of Hygeia award is sponsored by the American Pharmacists Association Foundation and the National Alliance of State Pharmacy Associations.
Dan Karant has served the Summit County Board of Health since 2009 and as president for two years. In 2000, he was recipient of South Summit Chamber of Commerce Business Leader Award. A member of Norton Kiwanis for more than 25 years, he is recipient of their Legion of Honor Award. For more than 25 years, Karant has been presenting poison prevention awareness programs in local kindergartens. He also serves on the Ohio Infant Mortality Task Force, is a past member of the Norton Health Advisory Board, and was recently elected to Norton City Council representing Ward 3. In addition, Karant chaired the OPA Pharmacist Preparedness Task Force for several years.
Karant is a graduate of the Ohio Northern University College of Pharmacy and is President and Chief Pharmacist of the Medicine Shoppe in Norton.
"It is not out of the ordinary for pharmacists to be active in their communities, but Dan Karant has gone above and beyond with his sustained efforts and contributions to both our communities and the pharmacy profession. His incredible community devotion and passion for serving others is an inspiration to all who know and work with him," said Ernest Boyd, OPA Executive Director.
OPA, established in 1879, represents more than 4,000 pharmacists, pharmacy educators, and pharmacy students throughout the state. It is OPA's mission to unite the profession of pharmacy and encourage interprofessional relations, while promoting public health through education, discussion, and legislation.

---