Complete Story

Aaron Clark receives pharmacy award for innovative pharmacy practice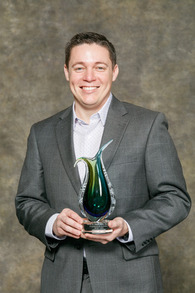 The Ohio Pharmacists Association (OPA) announced that Aaron Clark, R.Ph., PharmD, AAHIVP of Columbus, Ohio, is the 2018 recipient of the Upsher-Smith Excellence in Innovation Award.
This award, which was presented at the OPA 140th Annual Conference held April 20-22 in Columbus, honors pharmacists who have demonstrated innovative pharmacy practice resulting in improved patient care by providing effective patient counseling.
Aaron Clark has developed a specialized and personalized counseling program for the pharmacists at Equitas Health Pharmacy, engaging patients to take an active role in their healthcare. To ensure patients understand their medications and are working toward the best possible outcomes, he implemented a plan to follow up with patients taking specialty medications. He is also working with local leadership to help battle the opiate crisis by providing access to naloxone, an overdose reversal medication.
Clark is a graduate of Ohio Northern University College of Pharmacy. He is currently the Chief Pharmacy Officer at Equitas Health Pharmacy, which operates pharmacies in Columbus and Dayton.
"Aaron Clark is one of many pharmacists who have the passion to provide superior healthcare to the patients of Ohio. His drive to develop patient services makes him a truly valued member of our pharmacy community and the community in which he practices," said Ernest Boyd, OPA Executive Director.
OPA, established in 1879, represents more than 4,000 pharmacists, pharmacy educators, and pharmacy students throughout the state. It is OPA's mission to unite the profession of pharmacy and encourage interprofessional relations, while promoting public health through education, discussion, and legislation.
---