Complete Story

Kristen Sobota Honored as UNDER 40 Award Recipient
2018 UNDER 40 Award Recipient
Kristen Sobota, R.Ph., PharmD
The Ohio Pharmacists Association (OPA) announced today that Kristen Sobota, R.Ph., PharmD of Lima, Ohio was honored as a distinguished UNDER 40 award recipient for professional achievements and vision in the practice of pharmacy at its 140th Annual Conference held April 20-22, 2018 in Columbus. This award recognizes the professional achievements of young pharmacists, and advances them in the ranks of top-notch professionals from a variety of careers who have earned UNDER 40 recognition.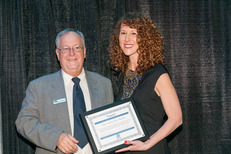 Kristen exemplifies the award criteria of leadership, excellence, and vision of good pharmacy practice. As Associate Professor at Ohio Northern University (ONU) College of Pharmacy, Kristen continues to strive in educating future pharmacists. Throughout her tenure she has coordinated numerous profession of pharmacy courses and currently coordinates both Over-the-Counter (OTC)/Self-Care and Special Populations Module. Her excellence in teaching speaks for itself with her several teaching awards including Most Influential Professor and Outstanding Pharmacy Practice Professor recognized by ONU and nationally recognized with the National Association of Chain Drug Stores' Community Pharmacy Faculty Award. Her excellence does not just stop in the classroom for pharmacy students; Kristen serves as faculty advisor for the student chapter of the American Society of Consultant Pharmacists (ASCP) and served as an outreach coordinator in which she established and coordinated multiple outreach events throughout the surrounding communities. Numerous events were recognized with poster presentations at OPA, and ASCP National Meetings, and published in The Consultant Pharmacist. Not only being recognized in The Consultant Pharmacist, these programs also were recognized by ONU with outreach program of the year award in 2015. Her dedication to the student chapter and outreach also recognized her personally with Advisor of the Year Award that same year. Besides students recognizing Kristen's dedication to promoting the value of the profession, numerous patients have been touched with her professional and compassionate care throughout these outreach events. Kristen's commitment to the profession isn't limited to just teaching and outreach at ONU. Service to the profession and community illustrates her vision for our profession. To the profession, she has served on numerous committees for ASCP including Pharmacy Educators and Research Council (PERC) and American Pharmacy Association including Member-at-Large of the Clinical/Pharmacotherapeutic Section (APhA-APPM); with abstract reviewer with both organizations. In coordination with statewide group of professionals who provide coordinated efforts for injury prevention, Kristen currently serves on Ohio Older Adults Fall Prevention Coalition of Ohio Department of Health's Ohio Injury Prevention Partnership (OIPP). Within OPA she has served on the Disease State Management Task Force Committee from 2008 through 2013 and provided several continuing education programs at OPA events. Her commitment to community includes Santa for Seniors at Van Crest Nursing Home, fidget blankets and music therapy for dementia patients, and volunteering at Lima Rescue Mission men's homeless shelter. Kristen's passion for service has led mission trips abroad to Kenya, Africa and Kingston, Jamaica.
Kristen earned her Doctor of Pharmacy degree at West Virginia University and completed an Ambulatory Care Pharmacy Practice Residency at The Ohio State University. As a member of OPA, she has served on the OPA Disease State Management Task Force. She has presented research posters at OPA Annual Conferences and written articles for award-winning, Ohio Pharmacist journal. She was selected to participate in the Great Lakes Young Pharmacists Leadership Conference. Kristen was recipient of the OPA Young Pharmacist of the Year Award in 2012. She has presented more than 25 research posters at meetings of OPA, ASCP, APhA, ASHP, ACCP, AACP, CPNP, SNPhA. She received the ONU Advisor of the Year Award 2014-2015, WVU School of Pharmacy Centennial Hall of Fame Award 2014, NACDS Community Pharmacy Faculty Award in 2010, the ONU Kathy Karas Teaching in Innovations Award in 2010, and the ONU Outstanding Faculty Member of the Year in 2009.
Kristen's response when asked Why do you belong to OPA? "As a native from West Virginia, my first experience with Ohio Pharmacy was in 2006 when I started my residency with Marialice Bennett at Ohio State University (OSU). During that one year residency at OSU and the unique multi-cultural, indigent health care clinics, I had the opportunity to become involved with the Ohio Pharmacists Association. I have so much respect for the professors and my mentors at OSU and believe they are some of the most innovative pharmacists in the country. At that time, they had told us residents that OPA was an exceptional state organization to be a part of and encouraged us to become involved. After residency, I stayed in Ohio to become a teacher at ONU so continuing my involvement in OPA was essential. Now, eleven years later, I realize how very true my OSU mentors were about the Ohio Pharmacists Association. I am a member of OPA because I believe this organization and its' leaders have a real passion for our profession as well as making a positive change and difference to help shape the future of pharmacy practice. I am grateful and fortunate for what OPA does for not only our profession but its members. OPA is an amazing resource for information in regards to legislation, updates to drugs/laws, and other pharmacy news. OPA helps me grow professionally by allowing me to participate in a wide variety of activities designed to enhance my knowledge in targeted pharmacy areas. I am incredibly thankful to be an OPA member and for the leaders of OPA that strive to help their members enhance their pharmacy careers."
Kroger Pharmacy has exclusively sponsored the OPA UNDER 40 Recognition Program.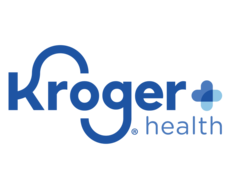 ---