Complete Story

Brandon Craig Recognized as UNDER 40 Award Recipient
2018 UNDER 40 Award Recipient
Brandon Craig, R.Ph., PharmD, BCACP, CSP
The Ohio Pharmacists Association (OPA) announced that Brandon Craig, R.Ph., PharmD, BCACP, CSP of Wooster, Ohio was honored as a distinguished UNDER 40 award recipient for professional achievements and vision in the practice of pharmacy at its 140th Annual Conference held April 20-22, 2018 in Columbus. This award recognizes the professional achievements of young pharmacists, and advances them in the ranks of top-notch professionals from a variety of careers who have earned UNDER 40 recognition.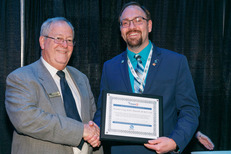 Brandon is dedicated to his profession as evidenced by his accomplishments including BCACP certification, countless hours of community service and participation on professional committees, as well as recent certification as a specialty pharmacist for Gentry Health Services. Under his guidance, the staff who support his efforts has also grown in knowledge of patient care and followed his example of what exemplary care should be.
Brandon is Lead Clinical Pharmacist at Gentry Health Services and also practices at Discount Drug Mart. He earned his Doctor of Pharmacy degree at the University of Toledo College of Pharmacy. Craig is board-certified in ambulatory care pharmacy through the Board of Pharmacy Specialties. This has allowed Craig to practice at the top of his license through providing patient care in the specialty pharmacy and community pharmacy settings, as well as educating pharmacy students as a clinical faculty member at several of Ohio's colleges of pharmacy.
Brandon serves on the OPA Board of Trustees representing District 12. He has served on the OPA Public and Professional Relations Committee, Disease State Management Committee, and Ohio's MTM Story Task Force. He has participated in OPA Annual Conferences as an attendee, delegate and moderator. He is actively involved in the American Pharmacists Association (APhA), American College of Clinical Pharmacy (ACCP) and North Central Ohio Pharmacists Association. Through APhA, he has served as an Abstract Reviewer and on the APhA Fellowship Awards Committee. He has advocated for pharmacy through many different avenues and was featured in Pharmacy Today and on pharmacist.com in support of provider status efforts. In ACCP, he has participated as a subject matter expert and standard setting panelist, general reviewer and pilot tester/reviewer for continuing education modules. Craig is a registered preceptor with four of Ohio's colleges of pharmacy. He has volunteer at Northeast Ohio Medical University for guest lecture opportunities and the student outreach free clinic. He has also advocated in the community for public health efforts related to medication safety through Generation Rx and immunization awareness, education, screening and administration. Recently, he provided training on medication administration to school personnel on the appropriate administration of medications in Ohio schools. He has previously participated as a professional member of the American Diabetes Association.
Brandon's response when asked Why do you belong to OPA? "The Ohio Pharmacists Association has provided fulfillment in my professional life since graduating pharmacy school in 2007. I am a proud member of the Ohio Pharmacists Association because I have a passion for our profession and ensuring that patients receive the care and services they deserve. OPA advocates on the behalf of pharmacists to ensure that these patient needs are satisfied. I enjoy the networking, partnerships and relationships that are created through OPA. The organization provides many opportunities for education and professional growth, regardless of the point in one's career. When I pay my annual dues to OPA, I know that the gain is much higher than the price. Of course, there are the tangible benefits of the Ohio Pharmacist monthly journal and web access to countless resources for pharmacists. But the organization means much more to me. It means pharmacists coming together with common interests and goals, to improve our profession and the lives of our patients. It means taking an active role in the community to ensure that gaps in public health are filled. OPA serves as a source of education, networking, professional growth and service to our patient and communities. I have remained an active and engaged member of OPA because it is the home for pharmacists in Ohio. I intend to continue spreading this message to my colleagues in efforts of growing the reaches of this valued organization."
We thank Kroger Pharmacy for exclusively sponsoring the 2018 OPA UNDER 40 Recognition Program.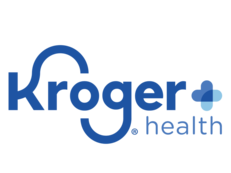 ---