Complete Story

Fight for your profession at the Pharmacist Legislative Day!
"If you're not at the table, you're on the menu."
$$Nickname$$,
We're not taking our foot off the gas. OPA is currently pursuing a number of legislative advancements, and we need your voice to help move the profession forward! Join us on November 14 for the OPA Pharmacist Legislative Day!
There are big pharmacy issues this year: Medicaid reimbursement reform, pharmacy clawbacks, the opioid epidemic, access to care, provider status, and more! We need your help to stand up for pharmacists!
Legislative Day is an advocacy event that allows pharmacists and student pharmacists to meet with legislators to educate them about the value of pharmacists in the world of health care. You will learn about the latest legislative issues in the Ohio Statehouse, discuss ways to effectively communicate those issues, hear from the legislators themselves, and have a chance to individually visit the offices of legislators. This program will allow you to learn and become involved in the issues impacting Ohio pharmacy practice. We'll discuss pharmacy clawbacks, the opioid epidemic, access to care, provider status, and other critical issues.
The Ohio Pharmacists Association and the Ohio Society of Health-System Pharmacists have joined together for this special advocacy day to inform you of crucial legislation impacting pharmacy practice. Pharmacist Legislative Day is designed to develop open dialogue between pharmacists and lawmakers. Be a part of the important process that will shape our profession.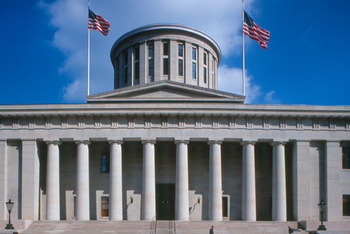 The Ohio pharmacy community, in cooperation with our sponsors, American Pharmacy Cooperative, Inc. (APCI), American Pharmacy Services Corporation (APSC), and Independent Pharmacy Cooperative, have joined together for this special advocacy day to put you in control.
This program offers three contact hours (0.3 CEU) of continuing pharmacy education for pharmacists. For complete program details, schedule, invited speakers, and a printable registration form, check out our Legislative Day brochure.
Who Should Attend?
Pharmacists and student pharmacists who want to become politically active and advocate on behalf of the profession.

"There is nothing more powerful than for pharmacists to have face-to-face meetings with legislators and their aides." – Ernest Boyd

Click here to see a printable brochure for the 2017 Pharmacist Legislative Day.
Can't make it to Legislative Day? Help us carry the load.
Support the OPA Pharmacy PAC
The OPA Pharmacy Political Action Committee (PAC) is your means of informing and educating state legislators about the significance of pharmacists in Ohio and the role the profession plays in constantly changing health care environment. Pharmacy PAC money contributed by members goes to help candidates who support pharmacy in Ohio.
The Ohio Pharmacy PAC needs your support! With your contribution, OPA will continue to monitor and initiate the legislation that impacts your practice.
Click Here to make a secure online contribution to the Ohio Pharmacy PAC
Support the Legislative Defense Fund
The OPA Legislative Defense Fund (LDF) was created in 2014 at the request of an independent pharmacy owner seeking to help OPA boost its advocacy efforts for pharmacists.
Unlike a Political Action Committee (PAC) fund, where personal funds are given directly to political campaigns, both personal and corporate funds are accepted by the LDF to enhance our government affairs endeavors, and there are no limits on the amount you can give. Contributions from corporate funds may be tax deductible as a business expense. For more info please see the OPA Legislative Defense Fund Brochure.
Complete the OPA Legislative Defense Fund Donation Form to sign up to make a monthly contribution to our advocacy efforts. Choose the giving level that best suits you, and then fill in your billing information. OPA will bill your account in the middle of each month, and you will receive a receipt at the end of the year for reporting. Then it's our job to put that money to good use.
THANK YOU FOR YOUR SUPPORT OF OPA'S ADVOCACY EFFORTS!