Complete Story

2017 PAC Breakfast Speaker Announced!
The Ohio Pharmacists Association is pleased to announce that
Representative Scott Lipps (R-Franklin)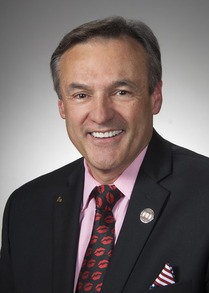 Will be our special guest speaker at the 2017 PAC Breakfast!
State Representative Scott Lipps is currently serving his first term in the Ohio House of Representatives. He represents the 62nd Ohio House District, which includes much of Warren County.
As a native of Southwest Ohio, Rep. Lipps was raised in Miamisburg, Ohio. After graduating from Miamisburg High School, Rep. Lipps attended the College of Wooster. After his time at Wooster, Rep. Lipps pursued a graduate degree (Masters) at DePaul University in Chicago, Illinois.
Rep. Lipps has been blessed with several successful businesses and many opportunities to serve his community over the last 25 years. He has also been involved in philanthropy (Masons and Shriners), professional organizations (NFIB State Board, Optimists and Rotary Club, Farm Bureau, among others) and in public service (Franklin City Council and Mayor). Rep. Lipps currently resides in Franklin, Ohio.
Rep. Lipps currently sits on the Agriculture and Rural Development Committee; Finance Committee; Finance Subcommittee on Agriculture Development and Natural Resources; Economic Development, Commerce, and Labor Committee; and serves as the vice chair of the House Federalism & Interstate Relations Committee.
Rep. Lipps is one of the best champions of community pharmacy the legislature has seen in recent memory. He has an in-depth knowledge of the profession, the pharmacy industry, and the challenges we face. He is a dynamic speaker, and one that our members will not want to miss.

"Representative Lipps not only spends time understanding the issues independent pharmacy is faced with but wants to fix the problems. He is dedicated to helping small business and making the playing field level for all. He truly cares about pharmacy and the value it brings to a community." - Jeff Bartone, Hock's Pharmacy
"Representative Scott Lipps and I have been friends and business associates for over 20 years. We first met at an AmerisourceBergen trade show where he was representing a DME company. He has always been willing to go to bat for us with the companies he represents, just like he is currently doing in the Ohio House of Representatives. He also owns a mattress company and home accessibility business, so he understands the problems we face as small business owners and healthcare providers. He understands how too much government regulation can stifle a business. And he realizes we must be paid for the services we provide." - Tom Mullaney, Mullaney's Pharmacy & Medical Supply
Join us Saturday, April 22, 2017 at 7:15 AM at the OPA Annual Conference & Trade Show at the Greater Columbus Convention Center.
Visit the Annual Conference page to sign up for the conference and the PAC Breakfast! Or if you've already registered for the conference, just call us at 614-389-3236 to add the PAC Breakfast to your registration.
Also, please consider sponsoring a student pharmacist to attend the PAC Breakfast - it's a great way to encourage students to get involved in the advocacy process!
Minimum contribution for the PAC Breakfast is $100/person, with all proceeds going to the OPA Pharmacy PAC, which provides campaign funds to candidates who support pharmacist initiatives. Sponor a student pharmacist to attend for an additional $50. Checks should be made payable to "OPA Pharmacy PAC." No corporate checks please.
Thanks to RDC for their support!
---