Complete Story

Governor Kasich signs crucial MAC transparency legislation into law!
On June 30, Governor John Kasich took a bold step forward in leveling the playing field for pharmacies and pharmacy benefit managers (PBMs), and took a giant leap forward in pulling back the curtain on PBM reimbursement, when he signed the Ohio Budget into law - complete with language backed by OPA that makes significant reforms to the PBM industry.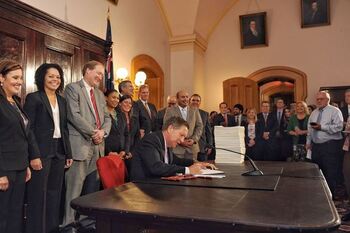 As mentioned previously, OPA and Reps. Tim Brown and Jack Cera were successful in integrating maximum allowable cost (MAC) transparency language & key pharmacy benefit manager (PBM) reforms from HB 127 into the Ohio Budget (HB 64), and since then, it has been a wild ride. And despite the fact that at one point, the language was stripped entirely from the budget, in the end the House & Senate agreed to leave the language intact, and Governor Kasich refused to veto the language!

These reforms are intended to rein in dramatic underpayments to pharmacies by insurers and PBMs. Specifically, the bill would require PBMs to update their MAC price lists at a minimum of every seven days; give pharmacies some basic MAC price appeal rights; would require PBMs to supply pharmacies with a current list of the sources used to determine MAC prices; would require drugs appearing on a MAC price list to be commercially available for purchase by pharmacies in Ohio; would require PBMs to disclose any discrepancy in MAC reimbursements to pharmacies versus what is charged to plan sponsors; and would require PBMs to be licensed as third party administrators (TPAs) by the Ohio Department of Insurance.
The read the provisions that Governor Kasich signed into law, check out pages 1514-1520 of the Ohio Budget. OPA has created an issue brief with talking points on MAC pricing that can be accessed here to learn more about this issue.

We are grateful to Governor Kasich for taking this bold step to create transparency within the PBM industry, which benefits pharmacies, business owners, and patients.

We believe that pharmacies should no longer be reimbursed below the cost of the drugs that they purchase! With generic drug prices spiking at record highs, PBMs must update their reimbursements to pharmacies to reflect changes in the marketplace! The losses that pharmacies are taking are unsustainable. As PBMs - who set the reimbursements for most drugs that pharmacies purchase - increase their control over the pharmacy marketplace, the Ohio Pharmacists Association applauds the legislature and Governor Kasich for pulling back the curtain on PBM reimbursements to pharmacies and creating guardrails to the process.
While there are many legislators who are owed thanks, we'd like to especially recognize Reps. Ryan Smith, Jack Cera, Ron Amstutz, Michael Stinziano, Jim Butler, Kirk Schuring, Dave Hall, Bob Hackett, Jim Buchy, Jeff McClain, Andy Thompson, Denise Driehaus, and Brian Hill; as well as Sens. Randy Gardner, Kevin Bacon, Bill Coley, Bill Beagle, Joe Uecker, Bob Peterson, Troy Balderson, Michael Skindell, Tom Patton, Dave Burke, Scott Oelslager, Lou Gentile, Joe Schiavoni, and President Keith Faber, for delving into the issue, refining language, and ultimately ushering the language through. We'd also like to thank House & Senate staffers Daniel James, Pam Wilson, Scott Partika, Lindsey Brigano, Steven Alexander, and Ben Webb. Special thanks also go to Speaker of the House Cliff Rosenberger for having an open ear, and engaging with OPA on this issue every step of the way. This would not have been possible without his leadership.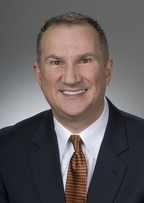 Lastly, tremendous thanks to Rep. Tim Brown for his passion, hard work, and determination in seeing this legislation through. He is a true pharmacy champion, and we will be forever thankful for his diligence and advocacy. This was a long, difficult journey, but he stayed the course and ultimately pushed us past the finish line, and for that, we are extremely appreciative.
"After learning from pharmacists in my district about some of the unsavory practices occurring at the hands of some pharmacy benefit managers, I knew something had to be done to protect our vital health care providers on Main Street," said Rep. Brown. "When a pharmacist fills a prescription, they should be focused on making patients healthier – not wondering whether filling that prescription could result in a loss of hundreds of dollars due to PBM pricing schemes. This legislation not only helps give pharmacies a leg to stand on, but it also arms employers with the information they need to make better, more cost effective health plan decisions. With health care premiums shooting through the roof, greater transparency should shed light on a big part of the problem. These provisions represent a positive step forward in building a stronger Ohio."
"Congratulations to OPA, Ohio pharmacists and everyone involved with the successful enactment of this legislation," said National Community Pharmacists Association (NCPA) CEO B. Douglas Hoey, RPh, MBA. "More transparency into drug pricing and reimbursement rates set by PBM corporations is desperately needed and this new law is an important step in that direction. This legislation not only addresses below-cost payments by PBM corporations to small business community pharmacies, but it would also provide insurance plans with more information to guard against PBM corporations overcharging payers as everyone is struggling with rising health insurance premiums. NCPA thanks Rep. Tim Brown, the Ohio legislature and also Governor John Kasich for supporting this legislation that protects the citizens of Ohio, health care providers, small business owners and health plans."

There are too many people to thank to be honest. There were hundreds of pharmacists and student pharmacists who met, called, and emailed their legislators about this issue. There were district events, town halls, roundtables, and more. The outpour of support and action has been inspiring. The National Community Pharmacists Association and their state government affairs director Matt DiLoreto have been incredible assets. The buying groups were all major helps - American Pharmacy Services Corporation, Miami-Luken/REM Corp, Independent Pharmacy Cooperative, American Pharmacy Cooperative Inc. The small pharmacy chains like Discount Drug Mart, Ritzman's, Shriver's, Hometown Pharmacies, & Riesbeck's were all big players in this too. And as you might imagine, we can't even begin to name all of the independent pharmacists who pitched in. THANK YOU all of those members who helped carry the load on this legislation. This has been a true team effort.
Outside of the support of volunteers and members, and the work of OPA's legislative staff in building coalitions and meeting with legislators, supporting political campaigns is a huge part of the advocacy process. We need to support good legislators who support pharmacy and the patients we serve, and we need to build on these recent success by working towards even bigger goals. Please consider financial support of our legislative efforts by contributing to the OPA Pharmacy PAC. 100% of Pharmacy PAC money contributed by pharmacists goes to help candidates who support pharmacy in Ohio.
You take care of patients. We take care of you.
---