Complete Story

Governor Kasich signs 3 OPA-backed bills into law!
Pharmacists are victorious as 130th General Assembly comes to a close!
We are pleased to announce that last week, Governor John Kasich signed not one, not two, but THREE pieces of pharmacy legislation into law! These bill signings wrapped up one of the most successful advocacy years in OPA's history. Each of these bills will be subject to rules and will not go into effect until 90 days after the signings. We would like to thank Governor Kasich for his support and faith in the profession of pharmacy.
SB 258: Pharmacy audit standards
On Wednesday, Governor Kasich signed SB 258, the fair pharmacy audit bill sponsored by Sen. Troy Balderson (R-Zanesville). The bill, which passed through both Senate and House chambers unanimously, aims to establish standards for the performance of pharmacy audits by pharmacy benefit managers (PBMs). SB 258 will make PBMs subject to reasonable audit standards by placing guidelines on when and how audits are conducted. These standards include:
• providing the pharmacy at least 10 days notice of their intent to audit;
• allowing recoupment only if the errors are substantive and not merely typographical or clerical in nature;
• limiting the practice of extrapolation under most conditions;
• establishing a written appeals process that clearly defines timelines for appealing audit findings;
• resubmitting a disputed claim using commercially reasonable methods; and
• requiring that an audit go back no further than two years from when a prescription was filled.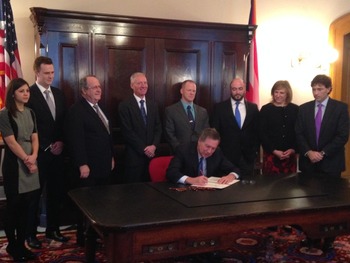 This bill would not have been possible without the hard work of OPA member and owner of Shriver's Pharmacies, John Coler, who worked with his senator, Sen. Troy Balderson, by communicating the problems his pharmacy was having with unnecessary audits and to work with him to craft legislation to help rectify the problem.
We would also like to thank the American Pharmacy Services Corporation (APSC), Independent Pharmacy Cooperative (IPC), American Pharmacy Cooperative, Inc. (APCI), National Community Pharmacists Association (NCPA); Rick Carano, owner of Village Apothecary, Youngstown area; Jerry Ritzman, Vice President of Pharmacy Services, Ritzman Pharmacies; Steve Ferris, Government Affairs Director, Discount Drug Mart; Tim Weber, Vice President, Fruth Pharmacy; and Pharmacy Audit Assistance Services (PAAS) for all of their help with testimony and legislator communications. Each highlighted some of the wasteful and unnecessary audits that are occurring on a regular basis in community pharmacies across the state.
As with all legislation, it took a true team effort to get this bill passed. The individuals listed above were not the only ones who helped push this legislation through. We'd like to thank everyone who participated in the past OPA legislative days and the individuals who met with their legislators one-on-one at the Statehouse or back in the district. We want to express our gratitude to all of the pharmacists and student pharmacists who contacted their legislators and to all the representatives and senators who voted in support of the bill.
While SB 258 was signed into law last week, it will not take effect until 90 days have passed. Stay tuned to OPA's legislative updates for when the law goes into effect.
HB 394: Immunization Access Expansion
On Friday afternoon, HB 394 was also signed by Governor Kasich. HB 394, which was sponsored by Reps. Ryan Smith (R-Gallipolis) and Nickie Antonio (D-Lakewood), will allow both pharmacists and pharmacy interns to:
Administer all CDC-recommended vaccines to patients who are 13 years of age and older, without a prescription;
Administer all CDC-recommended vaccines to patients who are 7 years of age or older and up to 12 years of age, with a prescription;
Administer the flu vaccine to all patients who are 7 years of age or older, without a prescription.
Rep. Smith & Rep. Antonio were fantastic sponsors for this legislation and worked incredibly hard to shepherd it through both House and Senate chambers. We also had tremendous support from many OPA members, including those who gave testimony: Tara Green, Pharmacist and Clinical Coordinator, Kroger Columbus Division; Erin Rogers, Student Pharmacist, University of Cincinnati James L. Winkle College of Pharmacy; Gene Nixon, Health Commissioner, Summit County Public Health; Mary Beth Shirk, Specialty Practice Pharmacist in Emergency Medicine, The Ohio State University Wexner Medical Center; Amy Lee, Professor, Northeast Ohio Medical University and Program Director, Consortium of Eastern Ohio Master of Public Health; Thomas Quade, Marion County Health Commissioner; Angela Guinn, Pharmacy District Manager, Rite Aid; Cortney Mospan, Community Care Pharmacy Practice Resident, The Ohio State University & Uptown Pharmacy; Eric Graf, Ritzman Pharmacies; Steve Ferris, Discount Drug Mart; Lora Miller, Ohio Council of Retail Merchants; Nate Filler, President of the Ohio Grocer's Association; Ohio Association of School Business Officials; Buckeye Association of School Administrators; Ohio School Boards Association; Council for Ohio Health Care Advocacy; National Association of Chain Drug Stores; Walgreens; Target; CVS Caremark; Meijer; and Families Fighting the Flu.
OPA would like to thank the countless number of pharmacists and student pharmacists who contacted their representatives in support of the bill. We would also like to thank the Ohio Council of Retail Merchants, Ohio Society of Health-System Pharmacists, and National Alliance of State Pharmacy Associations (NASPA) for their extensive support on the effort. Further, we'd like to thank Sen. Eric Kearney (D-Cincinnati), Mike Doherty and the University of Cincinnati College of Pharmacy for their work in getting the ball rolling on the legislation. Lastly, we want to thank Ohio's colleges of pharmacy for coordinating letter-writing campaigns, advocacy alerts to students, and for assisting with the OPA Student Legislative Day.
As stated before, the law will not take affect for 90 days and will be subject to rules from the Ohio State Board of Pharmacy. Stay tuned!
HB 326: Diabetic Shoe Fitting
The last bill that Governor Kasich signed on Friday was HB 326. This bill aimed to address a severe lack of diabetic shoe fitters in Ohio by allowing pharmacists to offer the service that they are more than qualified to provide their patients.
HB 326 was sponsored by Reps. Kristina Roegner (R-Hudson) and Alicia Reece (D-Cincinnati), and will allow pharmacists to fit diabetic shoes.
Currently Ohio allows physicians, nurses, occupational therapists, chiropractors, athletic trainers, and others to fit diabetic shoes, but pharmacists were not authorized to do so. We supported this effort to expand the accessibility of these diabetic shoes that can provide great relief to patients and help prevent amputation.
We would like to thank OPA members Barry Klein (Klein's Pharmacy), Dan Karant (Medicine Shoppe, Norton), Steve Ferris (Discount Drug Mart), and John Coler (Shriver's Pharmacies) for assisting with testimony in both chambers. We would also like to thank Anna Haas-Gehres, Keith Posendek, Josh Gaborcik, Heather Helsel, Kyle Dresbach, Maria Biasella, Dr. Comfort shoes, and everyone else who helped with data, interested party meetings, and conversations with legislators.
Just like HB 394, the law will not take effect for 90 days and will be subject to rules from the Ohio State Board of Pharmacy. Stay tuned!
We thank you - our OPA members - for your continued support. Everything we do & accomplish begins and ends with membership. If not for your investment in OPA, we would not be able to work to expand and protect this great profession. Please help us increase our pharmacy army - tell your pharmacy colleagues to join OPA!

Outside of the support of volunteers and members, and the work of OPA's legislative staff in building coalitions and meeting with legislators, supporting political campaigns is a huge part of the advocacy process. We need to build on this year's success by working towards even bigger goals in 2015. Please consider financial support of our legislative efforts by contributing to the OPA Pharmacy PAC. 100% of Pharmacy PAC money contributed by pharmacists goes to help candidates who support pharmacy in Ohio.

Events
←
August 2017
→
S
M
T
W
T
F
S
1
2
3

OPA Office- 2674 Federated Blvd, Columbus, OH 43235

August 3, 2017




10:00AM

4
5
6
7
8
9

Makoy Center, 5462 Center Street, Hilliard, OH 43026

August 9, 2017

10
11
12
13
14
15

OPA Office- 2674 Federated Blvd, Columbus, OH 43235

August 15, 2017




10:00AM

16
17
18
19
20

Nationwide Conference Center, Columbus, Ohio

August 20, 2017

21
22

OPA Office- 2674 Federated Blvd, Columbus, OH 43235

August 22, 2017




10:00AM

23

Cape May Village Campus Center, 175 Cape May Drive, Wilmington, OH 45177

August 23, 2017




6:30-8:00PM

24
25
26
27
28
29

OPA Office- 2674 Federated Blvd, Columbus, OH 43235

August 29, 2017




7:30AM-5:15PM

30

OPA Office - 2674 Federated Blvd, Columbus, OH 43235

August 30, 2017

31

Capital Wholesale - 873 Williams Ave, Columbus, OH 43212

August 31, 2017




11:00AM-1:30PM
August 20, 2017
Nationwide Conference Center, Columbus, Ohio
August 23, 2017
6:30-8:00PM
Cape May Village Campus Center, 175 Cape May Drive, Wilmington, OH 45177
August 29, 2017
7:30AM-5:15PM
OPA Office- 2674 Federated Blvd, Columbus, OH 43235
August 30, 2017
OPA Office - 2674 Federated Blvd, Columbus, OH 43235
September 7, 2017
6:00-8:00PM
Eclipse Company Store, 11309 Jackson Dr, The Plains, Ohio