Legislation to expand patient access to pharmacist services heads to Governor DeWine!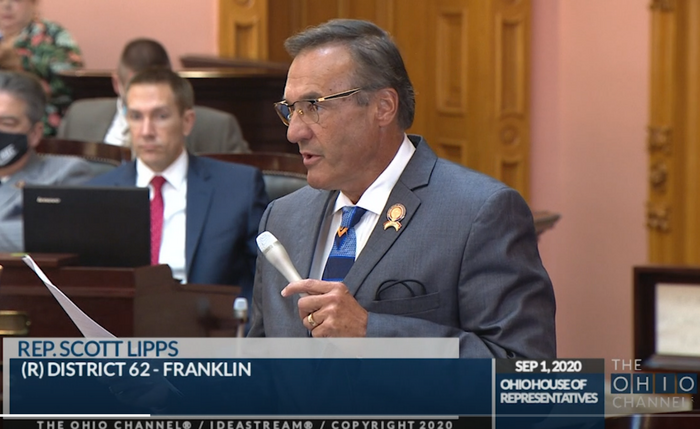 Today, the Ohio House of Representatives voted to concur with amended House Bill 203, legislation sponsored by Rep. Scott Lipps (R-Franklin), which will expand access to pharmacist-delivered care throughout the state of Ohio.
HB 203 was amended in the Senate with language from SB 303, which sought to expand current laws that empower pharmacists to manage chronic diseases for patients. HB 203 now heads to the desk of Governor Mike DeWine for signature.
On the heels of the Speaker of the House shake-up and urging from Senate President Larry Obhof (R-Medina), new Speaker Bob Cupp (R-Lima) acted quickly to advance the legislation to the governor, which, if enacted, will better position Ohio to combat the COVID-19 pandemic and the collateral damage it has caused throughout the state by better deploying pharmacists to assist in the care for patients suffering from chronic conditions – a growing need as more patients with more traditional disease needs forego routine care.
Specifically, HB 203 would expand the current laws that allow physicians to enter into "consult agreements" with pharmacists for the purposes of allowing those collaborating pharmacists to manage drug therapy for patients suffering from chronic diseases. Current law authorizes physicians to allow collaborating pharmacists to order & analyze blood and urine tests; administer medications; and discontinue, change, or add medications for their patients. HB 203 will expand a physician's ability to delegate pharmacist consults to their other collaborating partners: clinical nurse specialists, certified nurse-midwives, certified nurse practitioners, and physician assistants. This extension will significantly open up patient access to vital clinical services focused on chronic disease management.
This is especially important during the current pandemic, as the CDC reports that 78% of COVID-19 patients requiring admission to the intensive care unit had at least one underlying health condition. Additionally, the CDC found that 94% of hospitalized patients who died as a result of COVID-19 also had an underlying health condition.
The CDC stated that "persons with underlying health conditions or other recognized risk factors for severe outcomes from respiratory infections appear to be at a higher risk for severe disease from COVID-19 than are persons without these conditions."
Chronic diseases like diabetes, hypertension, and asthma carry high mortality rates as it is, but the fact that underlying health conditions, when paired with COVID-19, can be such a driver for intensive care and death, the need to manage those conditions effectively is vital.
Further, because of the serious threat of a "second wave" of COVID-19 that could be even more devastating than what we've experienced thus far, it is imperative that Ohio addresses as many of the chronic illness needs as possible to minimize the severity of the continued threat. Pharmacists are ideally positioned to meet these needs, while working in collaboration with other members of the health care team, as proposed in HB 203/SB 303.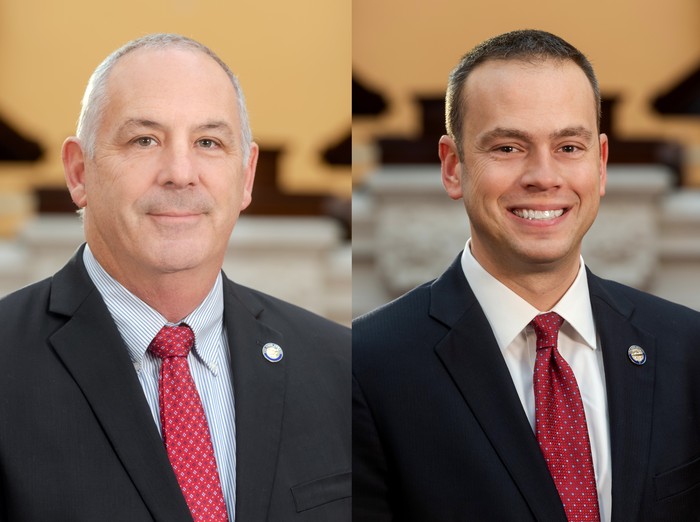 The language from HB 203 originated with SB 303, legislation sponsored by Senators Stephen Huffman (R-Tipp City) and Nathan Manning (R-North Ridgeville) that would expand the current laws that allow physicians to enter into "consult agreements" with pharmacists for the purposes of allowing those collaborating pharmacists to manage drug therapy for patients suffering from with chronic diseases. Current law authorizes physicians to allow collaborating pharmacists to order & analyze blood and urine tests; administer medications; and discontinue, change, or add medications for their patients.
SB 303's passage in the Senate, which was prioritized by Senate President Larry Obhof, came on the heels of recent emergency rules implemented by the State of Ohio Board of Pharmacy that temporarily expanded pharmacist consult agreements to mid-level providers in a more limited fashion. After encountering delays in the House, President Obhof greenlit a move amending the language into Rep. Lipps' HB 203 as a means to better ensure that more seamless pharmacist collaboration with physicians, nurse practitioners, and physician assistants would become permanent in Ohio. From there, Rep. Lipps led the charge to get the bill across the goalline.
"HB 203/SB 303 expand pharmacist consult authority and allow us to work with mid-level prescribers, most notably advance practice nurses and physician assistants. It also expands pharmacist ability to order and interpret labs," said new OPA President T.J. Grimm, who is also the Director of Ambulatory & Retail Pharmacy Services at University Hospitals. "This legislation will greatly enhance access to care for all Ohioans, most notably those in our urban and rural underserved communities. Both desperately need more and better care, and pharmacists are excited to be a part of that. Pharmacists are the medication experts, and adding them to the care team of your loved ones will lead to healthier, happier days ahead."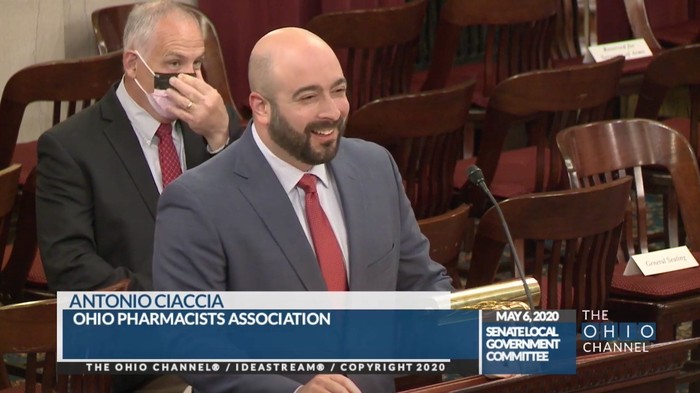 During Senate testimony on the legislative proposal, Senators Huffman and Manning provided testimony in support of the bill, and OPA Director of Government & Public Affairs Antonio Ciaccia provided the sole live proponent testimony on the bill. In his testimony before the Senate Local Government, Public Safety and Veterans Affairs Committee, he stated, "This ability to tap pharmacists to manage chronic diseases is essential, especially in the face of the current pandemic, where many patients and healthcare practices have seen traditional care delivery disrupted. Across Ohio, as COVID-19 has added new pressures that have up-ended the typical workflow in healthcare facilities, and the need to engage and collaborate with other healthcare professionals has never been greater."
SB 303 and HB 203 also earned backing by a number of major healthcare players in Ohio, including the chief medical officers at the Cleveland Clinic, Nationwide Children's Hospital, MetroHealth, AxessPointe Community Health Center, and more.
To view the proceedings from today's House floor vote, CLICK HERE.
In a joint letter to lawmakers, OPA member and Cleveland Clinic chief pharmacy officer Sam Calabrese and Cleveland Clinic chief medical operations officer Dr. Robert Wyllie stated, "In ambulatory settings and inpatient settings, pharmacists have, for years, been highly effective in managing chronic conditions live congestive heart failure, hypertension, diabetes, dyslipidemia, and COPD by collaborating through consult agreements with our physicians. The passage of SB 303 will ensure that pharmacist collaboration with physicians, nurse practitioners, and physician assistants can be agnostic of practice setting, and it will make it a permanent fixture of Ohio law."
According to Dr. Wilfred Ellis, a physician at Infectious Diseases, Inc. in Lima, Ohio, "I have worked with very closely with pharmacists in my practice and find them to be efficient, reliable, data-driven and a very important team member. By increasing access to care by pharmacists through consult agreement reform we can decrease burden to primary care providers and improve care to our patients."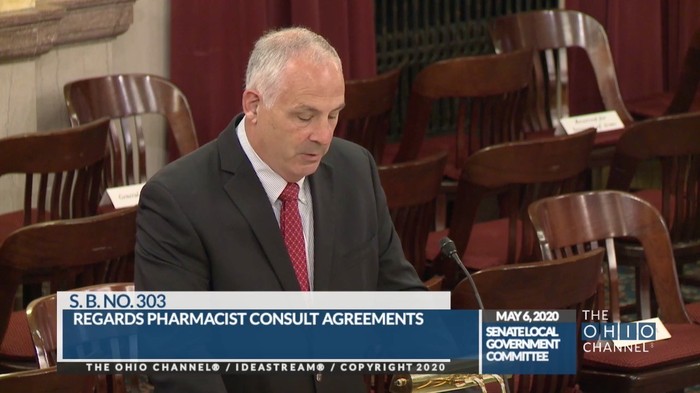 "It is imperative now more than ever that we protect patients and healthcare providers," said Senator Huffman, who is also a physician. "Protection includes removing burdensome requirements of physicians that can be removed and still provide patients with the quality care management they deserve. I believe this commonsense legislation will solve this problem with regard to pharmacist consult agreements."
"This is important legislation to ensure that patients are receiving the most accurate representation of their specific care management," said Senator Manning. "Pharmacists are highly effective at managing chronic diseases like diabetes, asthma, and hypertension, so by authorizing expanded collaboration with doctors and nurses, SB 303 will significantly expand patient access to quality care."
In addition to all the support for the legislation, several organizations stressed the need for the Ohio Department of Medicaid to implement Ohio's provider status law, to allow pharmacists to be able to bill and be reimbursed for clinical services like the ones authorized in HB 203/SB 303.
In remarks sent to the Senate, MetroHealth chief clinical officer Bernard Boulanger and chief operating officer Michael Stern said, "Unfortunately, payment models in Ohio do not support reimbursement for pharmacist medication management services. With the advent of Ohio law allowing pharmacists to enter into consult agreements with practitioners and the designation of the pharmacist as a medical provider in Ohio, opportunities to improve patient safety and health outcomes exist with greater pharmacist involvement as medication managers. Reimbursement for services is necessary to expand patient access to the pharmacist and continuity of care. We encourage you to consider removing these barriers by requiring reimbursement for pharmacist-provided patient care services under Ohio Medicaid and commercial contracts."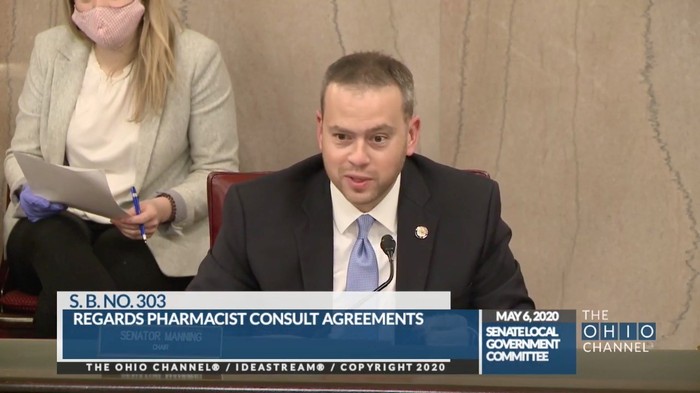 OPA would like to thank Senators Huffman and Manning for their ongoing support and their dedication for evolving and elevating the role of the pharmacist in order to expand patient access to quality care in Ohio. We'd like to also thank Representative Lipps for his tireless efforts in support of pharmacists as well. We would also like to thank Senate President Obhof for his quick action and persistence in getting the legislation advanced as a means to meet the unique challenges facing Ohioans during the COVID-19 pandemic. Lastly, thanks to Speaker Cupp for prioritizing this legislation on his first official House session with the gavel.
"Speaker Cupp has been a fantastic public official in the years that I've been fortunate enough to work with him," said OPA Executive Director Ernie Boyd. "I applaud him and President Obhof for prioritizing this crucial piece of legislation that will expand access to care when it's needed most."
"The expansion of the collaborative practice agreement laws to include nurse practitioners and physicians assistants will be extremely beneficial to patients in Ohio," said said Stuart Beatty, Director of Strategy and Practice Transformation with the OPA and Associate Professor of Clinical Pharmacy at The Ohio State University. "Many patients, specifically those in our most vulnerable populations, only have access to a pharmacist and a nurse practitioner or physician assistant. Allowing pharmacists to collaborate with other health care professionals to efficiently work together allows better care to be delivered to the patient by those they trust."
Media
Ohio Senate lists 7 coronavirus bills the House ignored before group announced articles to impeach Gov. Mike DeWine - Cleveland Plain Dealer, 8/25/20
CareSource Launches Pharmacist Provider Status Pilot - CareSource, 8/4/20
Support Letter for Implementation of Ohio Provider Status Law - American Pharmacists Association, 7/10/20
Ohio Senate passes health care bill - Medina Gazette, 5/12/20
Ohio Senate passes Manning, Huffman bill to ensure effective patient care management, remove barriers for providers - The Morning Journal, 5/9/20
Ohio Senate unanimously passes consult agreement bill - The Chronicle-Telegram, 5/7/20
Senate passes Huffman, Manning bill to ensure effective patient care management, remove barriers for providers - Office of Senator Steve Huffman, 5/6/20
Ohio Senate OKs $350 million from feds to local governments for coronavirus response - Columbus Dispatch, 5/6/20
Ohio should allow pharmacists to provide the medical care they are trained to provide - The Buckeye Institute, 5/6/20
Despite legislators' frustrations, Dr. Amy Acton's role safe in Ohio Senate - Columbus Dispatch, 5/4/20
Manning, Huffman introduce legislation to ensure effective patient care management - The Morning Journal, 4/25/20
Manning, Huffman introduce legislation to ensure effective patient care management, remove barriers for providers - Office of Senator Nathan Manning, 4/23/20