2019 PAC Breakfast Speaker Announced!
The Ohio Pharmacists Association is pleased to announce that
Representative Mark Romanchuk (R-Ontario)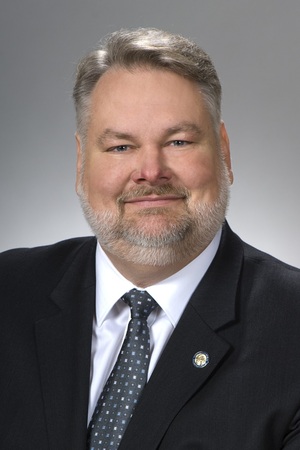 Will be our special guest speaker at the 2019 PAC Breakfast!
State Representative Mark Romanchuk is serving his fourth term in the Ohio House of Representatives. He represents the 2nd Ohio House District, which comprises all of Richland County.
Representative Romanchuk has over 30 years of experience in small business, systems engineering and management, and community development. He is the owner and president of PR Machine Works, Inc., a contract manufacturer providing precision machining, fabrication, and assembly services in the city of Ontario. Prior to his work with PR Machine Works, he worked at Hughes Aircraft Company as a U.S. diplomat to the former Soviet Union in support of the Intermediate Range Nuclear Forces (INF) Treaty. He was also based in Japan as a team leader and technical advisor to the U.S. Navy in support of the F/A – 18 aircraft.
Furthermore, he is the co-founder and past president of the Regional Manufacturing Coalition and is the past chairman of the Richland Area Chamber of Commerce Board of Directors. He currently serves on the Leadership Board of the Richland Community Development Group, the North Central State College Foundation and the Mansfield Sertoma Club. He is an active member of the National Federation of Independent Business and the Ohio Manufacturers' Association.
Rep. Romanchuk currently sits on the Finance Committee; and Health Committee. He is the chairman of the House Finance Subcommittee on Health and Human Services, and he is the chairman of the Joint Medicaid Oversight Committee.
Rep. Romanchuk was one of the first lawmakers to lead the charge on drug pricing accountability within the Ohio Medicaid managed care program. Through his work on the Joint Medicaid Oversight Committee, Rep. Romanchuk was one a handful of lawmakers to call for a complete audit of the pharmacy program, saying taxpayers were "getting hosed." Rep. Romanchuk has always had an open ear when it comes to the complex world of pharmacy, and he is been a leader in holding our Medicaid system accountable.
Join us Saturday, April 13, 2019 at 7:15 AM at the OPA Annual Conference & Trade Show at the Greater Columbus Convention Center.
Visit the Annual Conference page to sign up for the conference and the PAC Breakfast! Or if you've already registered for the conference, just call us at 614-389-3236 to add the PAC Breakfast to your registration.
Also, please consider sponsoring a student pharmacist to attend the PAC Breakfast - it's a great way to encourage students to get involved in the advocacy process!
Minimum contribution for the PAC Breakfast is $100/person, with all proceeds going to the OPA Pharmacy PAC, which provides campaign funds to candidates who support pharmacist initiatives. Sponor a student pharmacist to attend for an additional $50. Checks should be made payable to "OPA Pharmacy PAC." No corporate checks please.