Welcome Student Pharmacists!
We hope you will find this page to be a useful resource for Pharmacy news and information. We'll keep you posted about upcoming events and legislation. The Student Links section was designed by Pharmacy students and includes links that will help you with everything from research to job hunting. This page was designed with YOU, the Pharmacy student in mind. Please let us know what you would like to see included on this page.
---
Annual Conference & Trade Show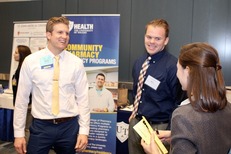 Join us for another weekend filled with friends, fun, and pharmacy excellence! The OPA Annual Conference is returning to Columbus for the 140th year with new opportunities to expand your pharmacy knowledge. This three-day meeting is full of student-focused programming, numerous continuing pharmacy education programs, and invaluable networking events for all. Enhance your professional platform while discovering what OPA can do for you now and for your future; you'll be glad you did!
For details about the CPE Sessions and topics offered, Conference events, location, etc. click on this link- 2018 Student Annual Brochure

---
Registration rates
| | | | |
| --- | --- | --- | --- |
| | Before 4/5/18 | After 4/5/18 | |
| Full Registration | $40 | $50 | All CPE Sessions, Sat. Box lunch & Student Olympics |
| Friday Only | $15 | $20 | Fri. CPE sessions, no meals |
| Friday Lunch | $23 | | Annual Awards Luncheon |
| Friday Dinner | $37 | | Dinner in the City |
| Saturday Only | $25 | $35 | Sat. CPE Sessions, Sat. Box Lunch & Student Olympics |
| Saturday Dinner | $38 | | President's Banquet |
| Sunday Only | $10 | $15 | Sun. CPE Sessions |
2016 Student Legislative Day

Events
←
January 2019
→
S
M
T
W
T
F
S
1
2
3
4
5
6
7
8
9

OPA Office- 2674 Federated Blvd, Columbus, OH 43235

January 9, 2019




10:00AM

10
11
12
13
14
15

OPA Office- 2674 Federated Blvd, Columbus, OH 43235

January 15, 2019




10:00AM

16
17

OPA Office- 2674 Federated Blvd, Columbus, OH 43235

January 17, 2019




10:00AM

18
19
20
21
22
23
24
25
26
27
28
29

OPA Office- 2674 Federated Blvd, Columbus, OH 43235

January 29, 2019




10:00AM

30
31

OPA Office- 2674 Federated Blvd, Columbus, OH 43235

January 31, 2019
February 13, 2019
7:30AM-5:15PM
OPA Office- 2674 Federated Blvd, Columbus, OH 43235
February 16, 2019
11:00AM-2:00PM
Hofbrauhaus Cleveland, 1550 Chester Ave, Cleveland, OH 44114
March 6, 2019
7:30AM-5:15PM
OPA Office, 2674 Federated Blvd, Columbus, OH 43235
March 21, 2019
OPA Office - 2674 Federated Blvd, Columbus, OH 43235
April 12-14, 2019
Greater Columbus Convention Center, Columbus, OH