Immunization
Training Programs & Supplemental Course Information
The Ohio Pharmacists Association was instrumental in the passage of HB 394 which allows Ohio pharmacists and pharmacy interns to administer all immunizations recommended by the Advisory Committee on Immunization Practices (ACIP) of the Centers for Disease Control and Prevention (CDC) to individuals 7 years of age and older.
Pharmacists and pharmacy interns desiring to give immunizations must:
• complete a course in drug administration approved by the State Board of Pharmacy;
• receive and maintain certification to perform basic life-support procedures by completing a basic life-support training course certified by the American Red Cross or the American Heart Association;
• practice in accordance with a definitive set of treatment guidelines specified in a protocol established by a physician and approved by the State Board of Pharmacy.
The Pharmacist Training Program for Immunizations offered by Ohio Pharmacists Foundation (OPF) is a course approved by the Ohio State Board of Pharmacy. This program can also serve as a refresher course for pharmacists who may have been trained previously, but who would like to review injection technique, especially if they have not administered immunizations recently. The course will also provide information on currently available vaccines and the recommended dosing schedules.
Pharmacists and pharmacy interns must be able to document that they meet the training criteria for each immunization they will be administering. Additional coursework must be completed if their current certification does not include training on that particular immunization. OPF offers supplemental home-study article to meet this additional training requirement. To order supplemental immunization home-study articles, click here.
*Please Note: Due to demand another training program has been scheduled for May 23, 2017. Online registration will open in late February.

If you were unable to attend this program but are interested in attending another time, please complete the following form .
Immunization Program Interest Form
Pharmacist Training for Immunizations: Program Details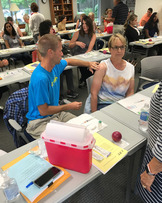 On August 5, 2001 the Ohio Pharmacists Foundation, presented the first Ohio pharmacist training program for adult immunizations. This program has been offered since and will continue to be offered as the interest continues.
Program Goals:
The goals of this program are to train pharmacists to set up an immunization program for all vaccines in the ACIP-recommended immunization schedules for persons 7 years of age and older; and to train pharmacists to properly administer vaccines and meet the requirements established by the State of Ohio Board of Pharmacy for recordkeeping and for the use of physician protocols. Participants must demonstrate proper sterile technique and administration of both IM and SQ injections during the program, and should wear clothing with easy access to the deltoid muscle.
This program has been approved by the State of Ohio Board of Pharmacy to qualify pharmacists to administer all immunizations in the ACIP-recommended immunization schedules to individuals 7 years of age and older.
Objectives.
At the conclusion of the program, participants will be able to:
1. describe the immune system including types of antigens, types of immunity and the immune system reaction to immunizations;
2. list the disease states and types of immunity associated with immunizations for diphtheria, hepatitis A & B, Hib, HPV, influenza, measles, meningitis, mumps, pertussis, pneumonia, polio, rubella, tetanus, varicella and zoster;
3. identify the appropriate administration schedules, route of administration, injection sites, dosages, precautions and contraindications, proper storage requirements, appropriate patient populations, and appropriate monitoring and treatment of the patient for adverse reactions for each of these immunizations, diphenhydramine and epinephrine;
4. demonstrate proper sterile technique in preparation and administration of injectable and intranasal dosage forms;
5. explain the proper disposal procedures for contaminated needles and immunizations, and the proper procedures for accidental needle sticks; and
6. describe requirements for recordkeeping and protocols as outlined by the State of Ohio Board of Pharmacy.
*Please Note: The next training program will be held on May 23, 2017.
2017 Registration Fees:
Discounted OPA Member Rate: $235 Non-Member Rate: $375
In order to facilitate Ohio pharmacists' ability to broaden their scope of practice, OPA plans to continue to offer this valuable program. If you are interested in attending such a future course, please indicate your interest on the following linked form:
Immunization Home Study Programs Available
Immunizations for HPV, Varicella, Hib and Polio
ACPE #0129-0000-15-062-H01-P
Credit: 0.15 CEU (1.5 contact hour)
release date: 3-31-15 expiration date: 3-31-18
This program provides background information on human papillomavirus (HPV), varicella, Haemophilus influenzae type b (Hib), and polio; and a working knowledge of vaccines to prevent these diseases. This home-study has been approved by the Ohio State Board of Pharmacy as a supplemental course for pharmacists who were previously trained to administer immunizations, but whose training did not include the HPV, varicella, Hib or polio vaccines. (Note: This lesson is a part of the OPF Pharmacist Training Program for Immunizations.)

Immunizations for Measles, Mumps and Rubella
ACPE #0129-0000-14-064-H01-P
Credit: 0.1 CEU (1 contact hour)
release date: 6-24-14 expiration date: 6-24-17
This program provides information on advances in immunizations for measles, mumps and rubella (MMR), and a working knowledge of MMR vaccine. This home-study has been approved by the Ohio State Board of Pharmacy as a supplemental course for pharmacists who were previously trained to administer immunizations, but whose training did not include the MMR vaccine. (Note: This lesson is a part of the OPF Pharmacist Training Program for Immunizations.)

Immunizations for Selected Vaccine-Preventable Diseases
ACPE# 0129-0000-14-052-H01-P
Credit: 0.35 CEU (3.5 contact hours)
release date: 03-31-2014 exp date: 03-31-2017
(Note: This lesson is a part of the OPF Pharmacist Training Program for Adult Immunizations.)
This lesson provides background information on adult immunizations and vaccine-preventable diseases and a working knowledge of influenza, pneumococcal, hepatitis A & B, meningococcal, tetanus, diphtheria, pertussis and zoster vaccines. (Note: This lesson is a part of the OPF Pharmacist Training Program for Immunizations.)
To order Home-Study CE, Click Here

Events
←
March 2017
→
S
M
T
W
T
F
S
1
2
3
4
5
6
7

OPA office- 2674 Federated Blvd, Columbus, OH 43235

March 7, 2017




7:30AM-5:15PM

8
9
10

6805 Bobcat Way, Dublin, OH 43016

March 10, 2017




9:00AM-4:00PM

11
12
13
14

OPA office- 2674 Federated Blvd., Columbus, OH 43235

March 14, 2017




10:00AM

15
16
17
18
19
20
21
22
23
24

6805 Bobcat Way, Dublin, OH 43016

March 24, 2017




9:00AM-4:00PM

San Francisco

March 24-27, 2017

25
26
27
28
29
30
31
April 21-23, 2017
Greater Columbus Convention Center, Columbus, OH
May 11, 2017
Makoy Center, 5462 Center Street, Hilliard, OH 43026
May 23, 2017
OPA Office - 2674 Federated Blvd, Columbus, OH 43235
May 23, 2017
OPA Office - 2674 Federated Blvd, Columbus, OH 43235
June 20, 2017
11:00AM